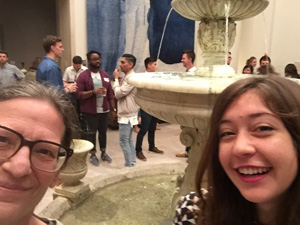 Hello! My name is Asia Cruz, and I'm working as a Marketing Intern at Atmosphere Commercial Interiors during the summer of 2016.  I work at the Young Quinlan Building on the corner of 9th and Nicollet in Minneapolis. I was asked to share my impressions of working at a company that specializes in working well.  So, in addition to learning the ropes of marketing the brand, I am immersed in a work culture that feels both interconnected and innovative.
---
Before coming to intern with Atmosphere Commercial Interiors this summer, I was always curious about the importance of ergonomic design in office productivity. Cubicles offer a unique combination of personal space and accessibility, and there is something magical about the workflow ensuing when an employee is in his or her own bubble. I must have been in elementary school when I first learned of the possibilities of an adaptable work space, and since that day it has been my small goal to someday experience it for myself.
Fast-forward to the start of my internship. My first few days were right on the heels of Neocon, one of the most important conferences for commercial designers. This was a big week for everyone in the industry, but to me it meant a highly energized introduction full of new product releases, trend reports, and more. At Atmosphere, I took in the new knowledge and reveled in the shared learning spaces specifically geared toward collaboration, the Steelcase V.I.A walls that bring people together while offering privacy, and the natural light that reached even the furthest corners of the office. I especially felt at home with the first cubicle I could call my home for the summer, and I settled into the space with enthusiasm that would set the tone for the following three months.
There was so much to learn and do, but first I had to understand the functionality of Atmosphere's business model on a personal level. The more I explored my space, the more I learned the importance little comforts could hold in maintaining a productive office environment. Just as my understanding of the workplace has grown continually more nuanced, my surroundings have helped change the way I think to adapt to my needs. Space creates utility, and an adaptable workspace allows me to adjust my environment to match my needs on a deeper level.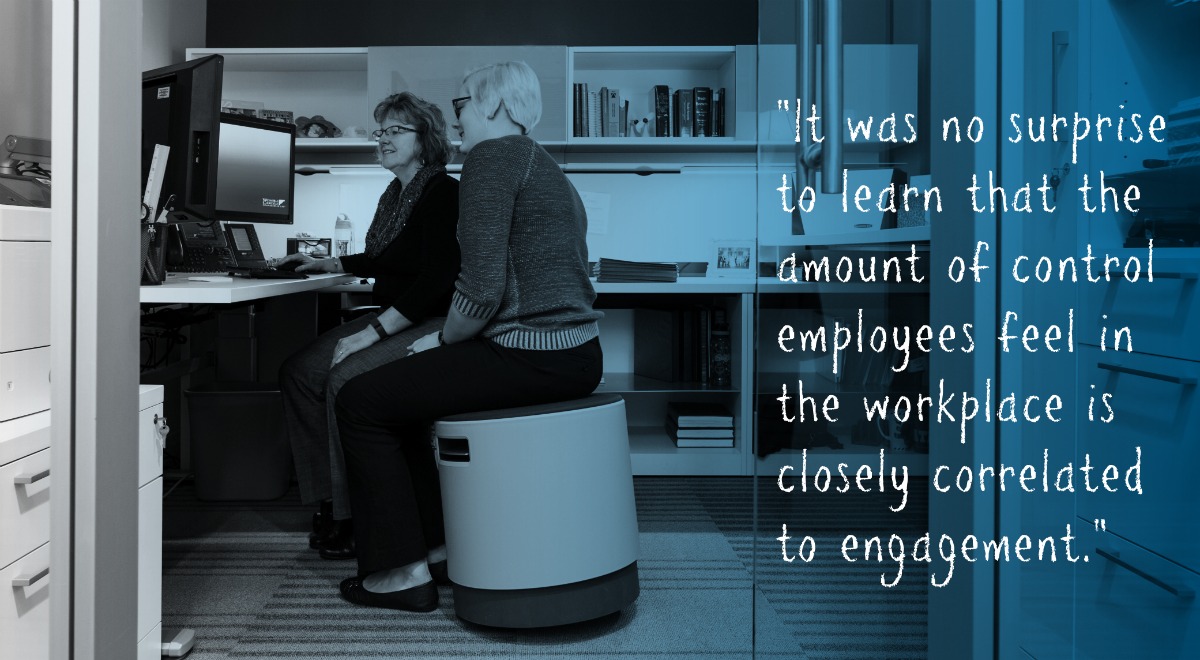 It was no surprise to learn that the amount of control employees feel in the workplace is closely correlated to engagement. A recent Steelcase survey reported that nearly all engaged employees believe their company takes an interest in their personal wellbeing. From what I have seen and learned, the key to productivity lies in a happy, healthy office culture. Little changes can have a large impact on the workplace, and ergonomic design is a key factor to forming a long-term bond in the company.
When I look around, I don't just see workstations and desks, I see powerful tools that can maximize productivity. The Brody chair offers much-needed respite from the communication-centric work zone, while shared desk spaces allow employees to meet and gather in technology-friendly communities. I have even noticed the benefits of my height-adjustable desk, as I am able to comfortably prioritize tasks while balancing the effortlessness of sitting with the productivity and health benefits of improved circulation.
The people-focused tools at Atmosphere have shown me firsthand how ergonomic design can boost productivity to create a more effective work environment. Each piece of furniture offers unique insight to the commercial furnishings industry on a personal level, and I can't wait to learn all I possibly can about it in the next few months.
---
Keep an eye out for my next article on the types of projects I've been working on at Atmosphere. I'll have so much to share and explore over these next few months, and I look forward to helping our clients understand how much Atmosphere has to offer as well.