It only took two weeks after being spun off by Target for us to start talking interns. Even under the immense pressure of the transition to new ownership and the exciting possibilities of a new brand, we were giddy to start planning an Internship Pilot Program. And now that we could, what should the goal of the program be?  At the outset, we had a few basic aspirations.
We want to be a top employer, and to get there, we need to understand how our culture and brand are perceived by prospective employees.
We want to build better relationships with local universities.
We need to hire interns simply for the exposure to fresh, new insights from a younger generation.
We want to develop relationships with students that will last past graduation, and act as a resource as they enter into a career (or gig), so their orientation into their larger business community starts before graduation.
We want to make a difference in the life of a student—one at a time.
With these five points in mind, our Management team unanimously agreed to move ahead. Good thing we had hired a fantastic Human Resources Manager, Myra Basar, who came on-board following the Target sale and built an HR Department from the ground up.  We had decades of exceptional HR practices to work with, thanks in large part to being a member of the Target Corporate family, so the combination of a good foundation and a skilled manager helped us prepare a program in time for the 2016 school year schedule.
Across our three regions, we decided to aim for four interns. Two Design Interns, one in Arizona and one in Wisconsin, and Sales and Marketing Interns in Minnesota. After the basic steps of creating job scopes and role roadmaps, we took great pleasure in reaching out to local universities in a way we hadn't done before. Learning about the campus internship programs and experiencing the tidal wave of interest affirmed our decision to take this journey.
The interviewing and hiring process was a good test of our shiny new HR engine. Each region handled their hires independently and in partnership with our HR Manager; and in some cases, interviews were conducted on Skype at all hours of the day with candidates who were studying abroad.
Welcoming our summer team members was another good test of our new HR policies and on-boarding program. Our Marketing Intern, Asia Cruz, was assigned a mentor from the Marketing Team. The framework we created includes a weekly status with a form that captures completed projects, Asia's feedback for us, and suggested next steps. This helps us make sure that we're providing a variety of work that matches Asia's experience and personal goals, shows consistent progress over time, and gives us the chance to course-correct as we go. Things are going well according to her mentor, Natasha Fonville, Specialist, Marketing and Brand. "Asia's innate ability to understand our business and marketing needs, and drive her own design and writing projects far exceeded our hopes. That, coupled with her amazing attitude, make for the stuff Mentors dream of."
Our interns are not given projects that keep them out of sight; rather, they are offered real work, and a chance to see the impact they have on our client's satisfaction, and on project success. We hope their impact and fresh perspectives last well past summer, and we hope our relationships with them last far longer than that.  "We have enjoyed Jordi so much; she is a part of our Atmosphere family for life," offered Brieanna Bonnstetter, Design Team Lead, Phoenix. And in a stroke of luck, our Sales Intern, Brittany, will be immersed in the Minneapolis Sales Department beyond the summer, gaining deeper insight on client relationships and project management.  Dana Lair, Sales Manager, Minneapolis, has noticed tangible value right away, and looks forward to watching her career path develop. "Having Brittany onboard this summer has been awesome!  My team has noticed that we have been able to escalate ideas quicker as we have had more help with internal projects.  Brittany is also learning quite a bit about our business and is planning to stay on through the school year.  We are taking this opportunity to onboard a future salesperson through an intern path!" notes Dana.
Now, at the halfway point through the summer, we asked our interns for feedback on how things were going:
Top: Jordan, Intern

Over the past three months with Atmosphere, I have been shown the ins and outs of the design business. The passion beaming from each employee inspires me daily and shows me that design is a powerful aid that helps people feel and function better in their everyday lives. This exemplary company has taught me more in the past three months than I ever thought possible and I'm grateful for all I've gained through this experience. I would also like to say that I am incredibly blessed to have been given this opportunity and I look forward to maintaining connections with all the wonderful people I had the privilege of working with. This has been the best experience of my life in design! Thank you, Atmosphere!
~ Jordan, Interior Design Intern, AZ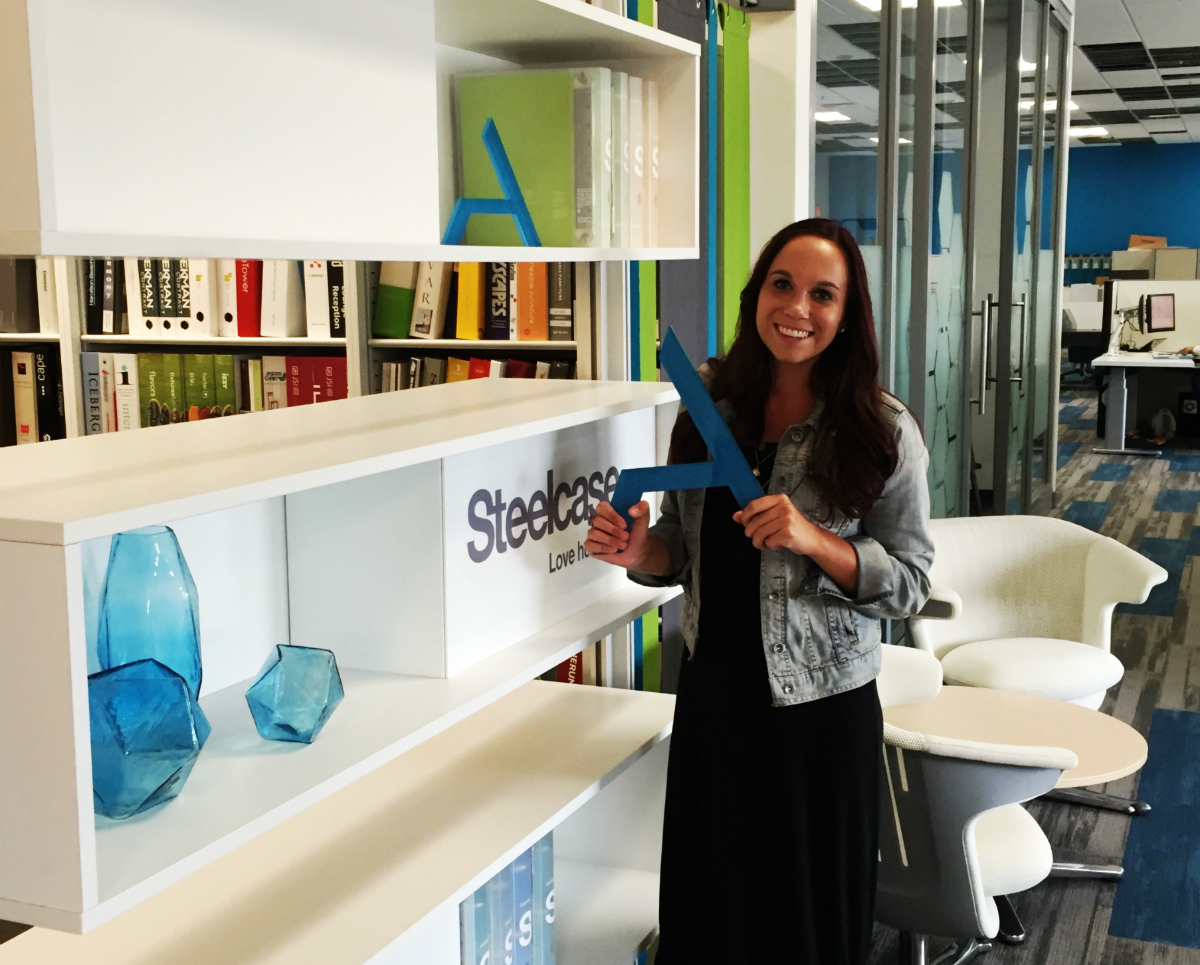 I have loved learning and growing here at Atmosphere Commercial Interiors. Every day has been a different adventure, and I have been exercising my design skills every step of the way!
~ Dylan, Interior Design Intern, WI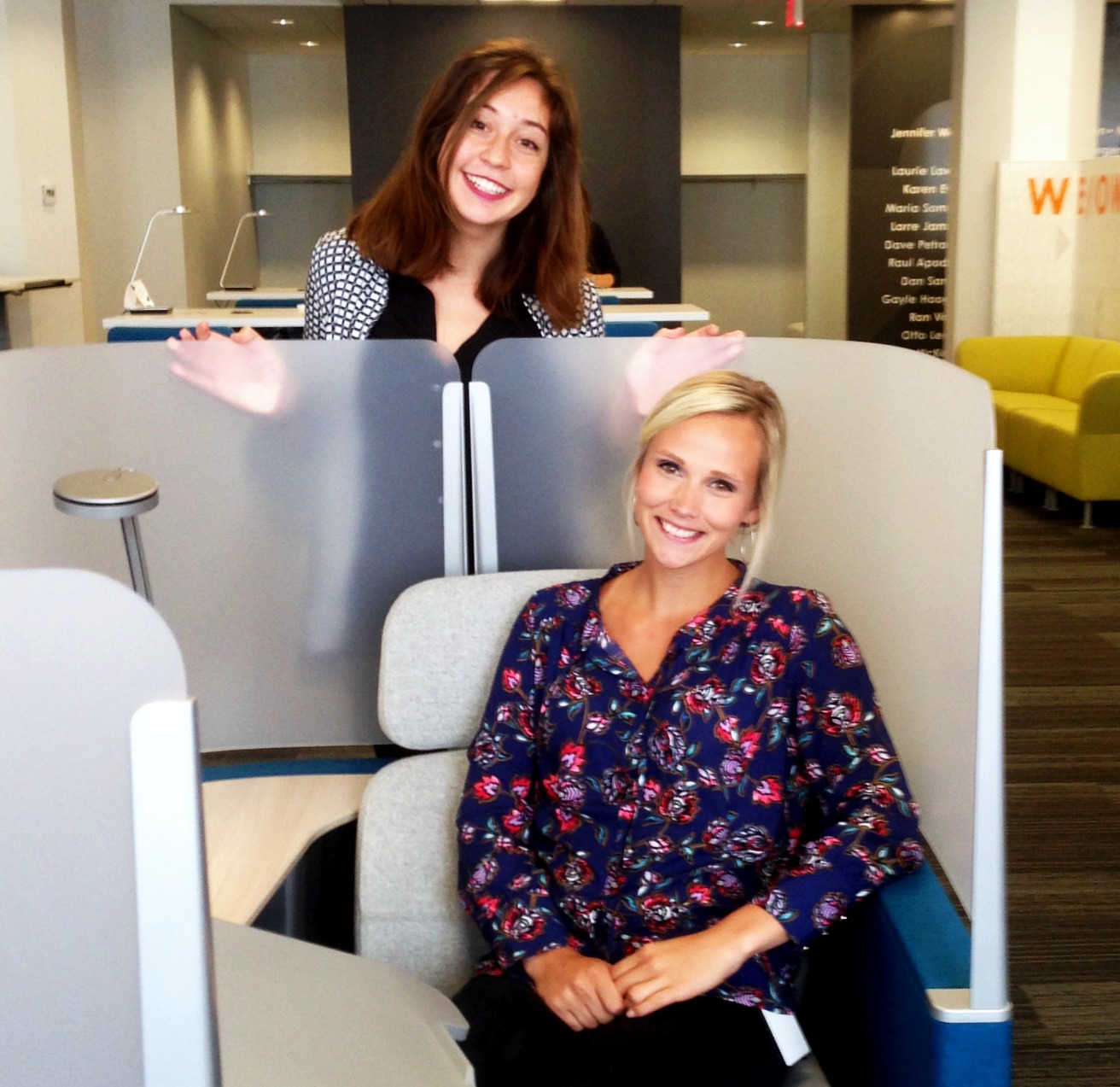 Interning at Atmosphere has been an incredible opportunity to get real world experience while learning more about all the 'how's and 'why's behind what we do. I have loved being able to contribute in a tangible way while learning so much every day.
~ Asia, Marketing Intern, MN

I have learned so much from everyone in the office, it's been great having the opportunity to fully understand what everyone does! You never know what to expect from an internship but working at Atmosphere has been a privilege!
~ Brittany, Sales Intern, MN
At the end of our first Intern program, in early fall, we plan to debrief and incorporate key learnings from the program for next summer. While some of our goals may not be achievable after just one summer, I think we will measure our success the first time around based on exactly that – one summer.   If we have made a positive impact on the student's outlook on their personal goals and the business community, then we will have met the most important goal, which is to have made a difference in the life of a student and empower them to succeed.  And along the way, hopefully we will have learned a little something more about ourselves and how we can better serve the younger generation soon to be entering the workforce.
I spent the first 15 years of my career working with college students and I was always amazed by the enormous talents, drive and enthusiasm they brought to their positions. They kept me and all of the other full-time staff on our toes because we wanted to be the best we could for them as they began to navigate their fledgling careers. Atmosphere's group of interns was no different. They came to us full of ideas and excitement for all they could learn and do. I think that they helped some of us find our spark again on days it was missing. Across the board, our team members have been thoroughly impressed with the knowledge, energy and dedication that Asia, Jordan, Brittany and Dylan have brought to the business as a whole. I think they also got as much from their interactions as our interns did. I would call that an all-around success!
~ Myra, HR Manager
Our business focuses on helping other businesses create and manage facilities programs, and connect their values and brand to employees through work environments. We can't do this without gaining deep insight into how people work, and college students are one way to connect the dots and discern future trends.
We ask our team members, our clients, our partners, and our peers for feedback, and now we have the chance to ask the next wave, our students, what motivates and inspires them. Our interns are true partners in how we're building a better business for the future.