Focus. It can feel impossible in a world of never-ending distractions. Whether at home or work or anywhere else for that matter. There is always something competing for your time and attention. For many, working from home has provided much needed flexibility in their day, but being home is not without its distractions. Perhaps you take advantage of the chance to start a load a laundry or load the dishwasher. These are necessary tasks that previously had to wait until the workday was done, but they are distractions nonetheless.
In a more traditional office environment, there are opportunities to control distractions and prioritize focus; opportunities to create spaces conducive to work, with all the benefits of connection and collaboration that have been greatly missed over the last two years. These casual connection opportunities are what many love and miss about going into an office, even though the small talk and pop-ins can distract from the work at hand. As more and more employees return to the workplace, it's important to consider what your team needs to get work done, without sacrificing in-person connectivity.
Focus is the goal
For those returning to the office, the desire for peace is high on the priority list. To work in a space that is just for work, free of the many distractions of home, might feel like a luxury. But the office is not distraction free either.
From the devices we carry in our pockets to the activity of the office space, distractions are everywhere. In a recent Forbes article, contributor John Brandon highlights the very nature of distractions. Never has it been easier to avoid things you don't want to do or feelings you don't want to feel. Distractions are here to limit your focus. Unfortunately, this applies to both things you want to avoid and things that matter (and therefore require focused time and attention).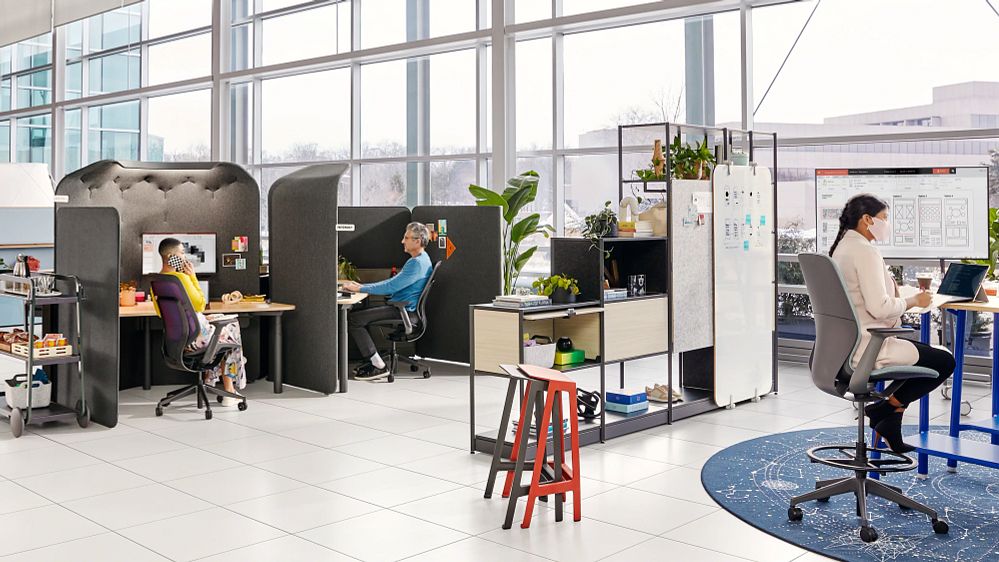 Furnishing for focus
While being back in the office gives us the opportunity to connect, there is still work to be done. Instead of letting the office be just another distraction, employers must create spaces that facilitate the focus needed to get work done, while also allowing for necessary distraction. Open concept offices can make it hard to focus for an extended period of time. Fortunately there is a solution for this – one that affords privacy, comfort and the ability to get down to business.
Enter Steelcase Brody Worklounge; an ancillary piece that addresses the distractions in your peripheral vision. Brody also creates an enhanced sense of psychological security.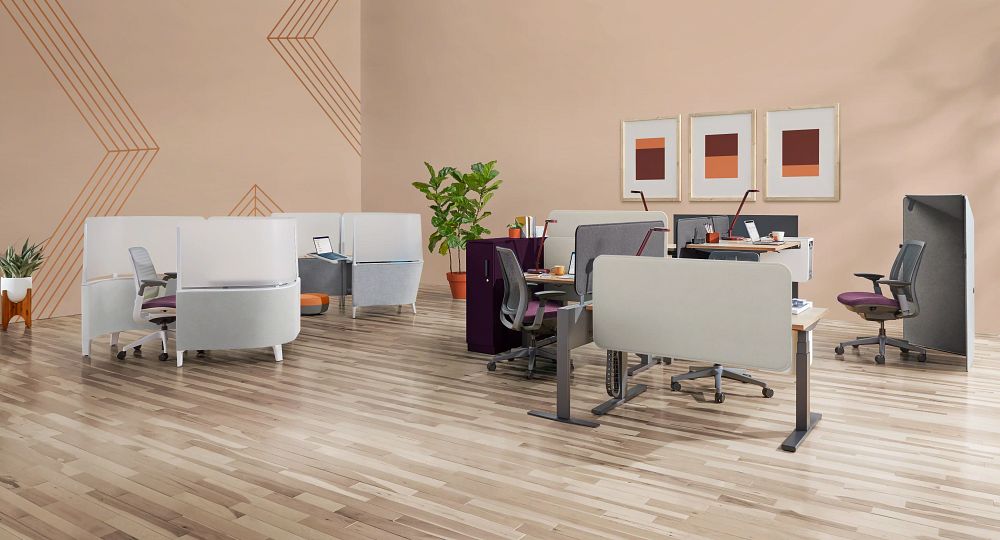 Need more enclosed privacy? Products like Orangebox On the QT and AIR3 pods are great options to create a private space within your space without constructing walls. Available in a variety of sizes, there is a pod for every type of focus work needed.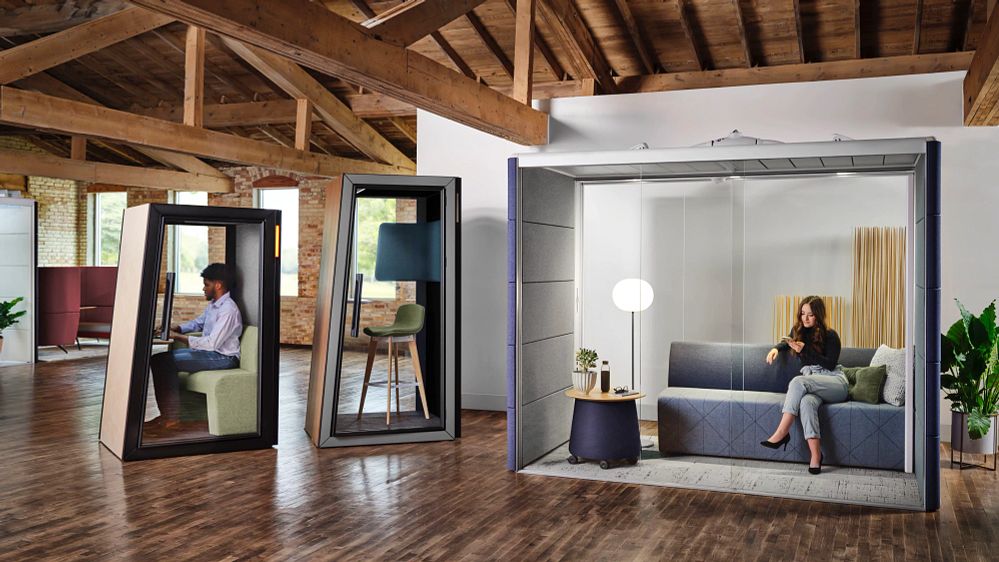 Another key need for tackling work anywhere – access to power. Flex Mobile Power easily adds power where you need it most, maximizing flexibility in any office space.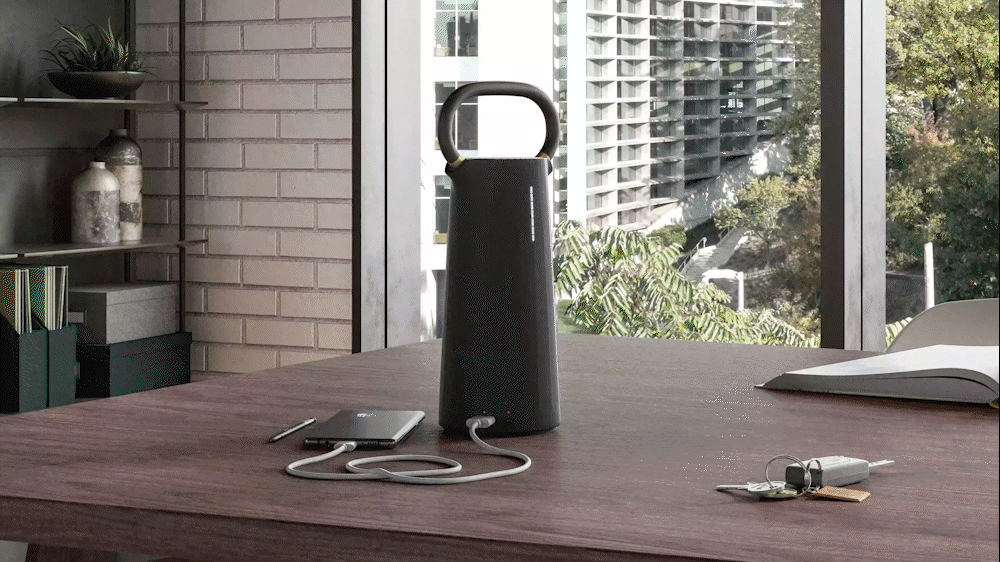 Rethinking what to focus on
No matter where work is happening, managing life's distractions helps prioritize what needs your team's attention first. In a recent Fast Company article, this was a key strategy of highly productive people. Often, the work that is prioritized is the work that is urgent to someone, relatively easy to complete and likely does not push you outside of your comfort zone. But is this the work that is most valuable to the organization and your professional development? Ask yourself – does this need to be done or does this need to be done well?
Take advantage of your collaborative spaces, like the one shown below, to foster these conversations! Encourage your team to share their thoughts and opinions regarding their workloads so you can effectively delegate tasks.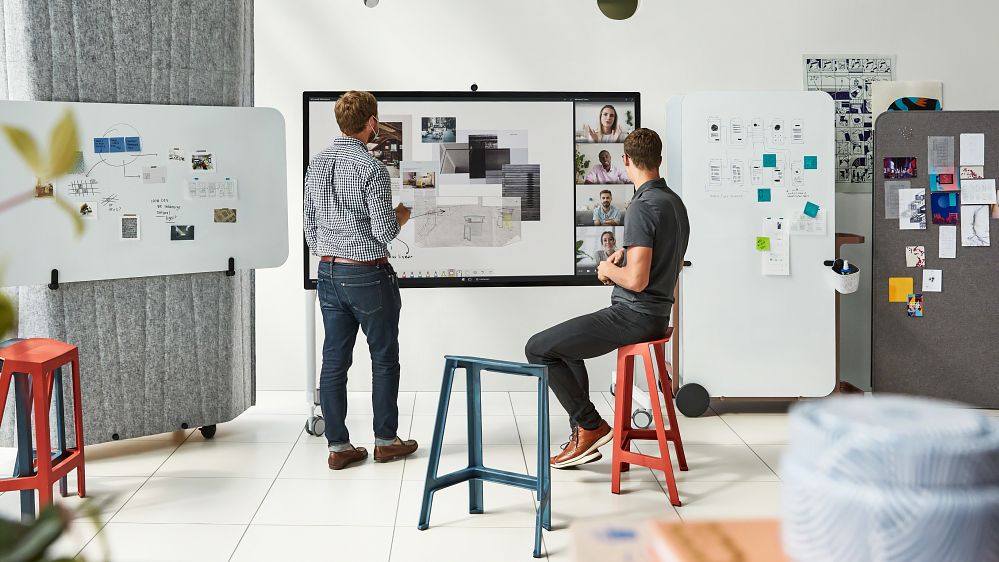 We can help you brainstorm ways to add more private spaces into your office.
Design matters
The following perspective was shared by our Design Team Lead for WI and IL, Stacy Wieme.
"What I am finding with most clients is that their employees believe they can focus better at home, so they are coming back to the office for social connections and in-person collaboration.  Business leaders are driving space renovations to better support employee needs – to be 'commute-worthy' and create conditions for collaboration, innovation, creativity, AND focus.  My goal is to incorporate more focus spaces into my client's space to provide both ends of the spectrum to meet employees needs  – focus and social/collaboration spaces.  In my opinion 1-2 person spaces are the most important spaces as we enter the post-pandemic phase.
"We need to incorporate a mix of enclosed spaces to assist with hybrid meetings efficiencies and provide as heads-down space for employees.  We are accomplishing this with the use of pods (such as Orangebox Air) or by utilizing Steelcase Walls to create enclaves.
"We also need shielded spaces out in the open to support 'focus' in situations where the floorplan doesn't allow for new rooms to be built. High back lounge pieces (such as Orangebox Away from the Desk or the Brody Worklounge) and a variety of screens (such as AMQ 3F, Flex Screens and Clipper Screens) are perfect for creating those open office shielded spaces."
In search of solitude
Focus can be a critical component for organizations that depend on their creative producers. For a deeper look on the connection between solitude and creativity, check out Collaboration Kills Creativity, According to Science from Inc., Can Collaboration Kill Creativity? Five Surprising Insights On Innovation, from Forbes, or a TEDxWorking talk from Janine Esbrand, Collaboration kills creativity.