After saying goodbye to our showroom space in Tempe, the project team was on a mission to find a location that reflected our corporate culture and identity. The building at 815 N Central Ave in Phoenix, a former Packard showroom, did just that. With a close proximity to clients, a developing neighborhood and a space that offered the right options for build-out, we found just the right balance of work and play to meet our needs.
The new location placed us squarely in Roosevelt Row, a growing downtown Phoenix business district in the heart of the design community known for its restaurants and galleries. Though this area wasn't always a cultural hub, in recent years it underwent a purposeful transformation. We related to this since we recently underwent a similar transformation. After separating from Target Corporation and building a new relationship with our current operations partner, A&M Business Interior Services and parent company Omni Workspace, we too saw the potential of change.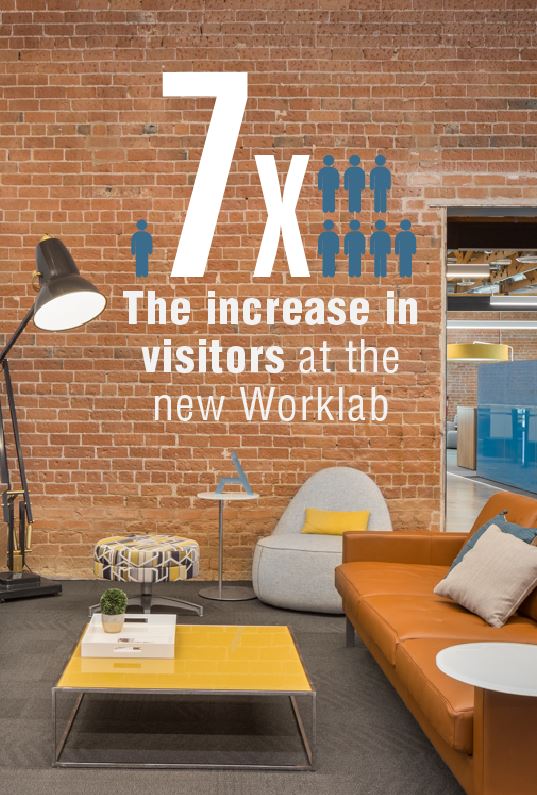 Fusing Purpose and Place
As our mission states, we enlighten organizations to the connection between people, place and purpose. The move to downtown Phoenix offered several benefits, but a key aspect was the alignment of our space with this mission.  Every detail in the new space is designed to underscore how space radiates our purpose. This creates an authentic and supportive environment that is conducive to listening and learning; a place in which our team members can flourish and where we can help our clients imagine the future of their space.
The result is a beacon of leading-edge corporate design, workplace innovation and organizational purpose. Another result? We've hosted nearly seven times the number of client and partner guests to our new space versus the old showroom since the late 2016 opening.
The Worklab Story
Space is a powerful instrument that can be used to enhance recruitment, reinforce corporate culture, and heighten a sense of well-being. The Atmosphere Commercial Interiors space is designed to showcase how a well-designed space—the connection between people, purpose and place—can be leveraged to enhance engagement and drive business results. A living, working lab, we understand each piece because we live and breathe it each day.
We can feel a difference
One benefit to the new space is the additional control and choice each employee has in her/his workflow.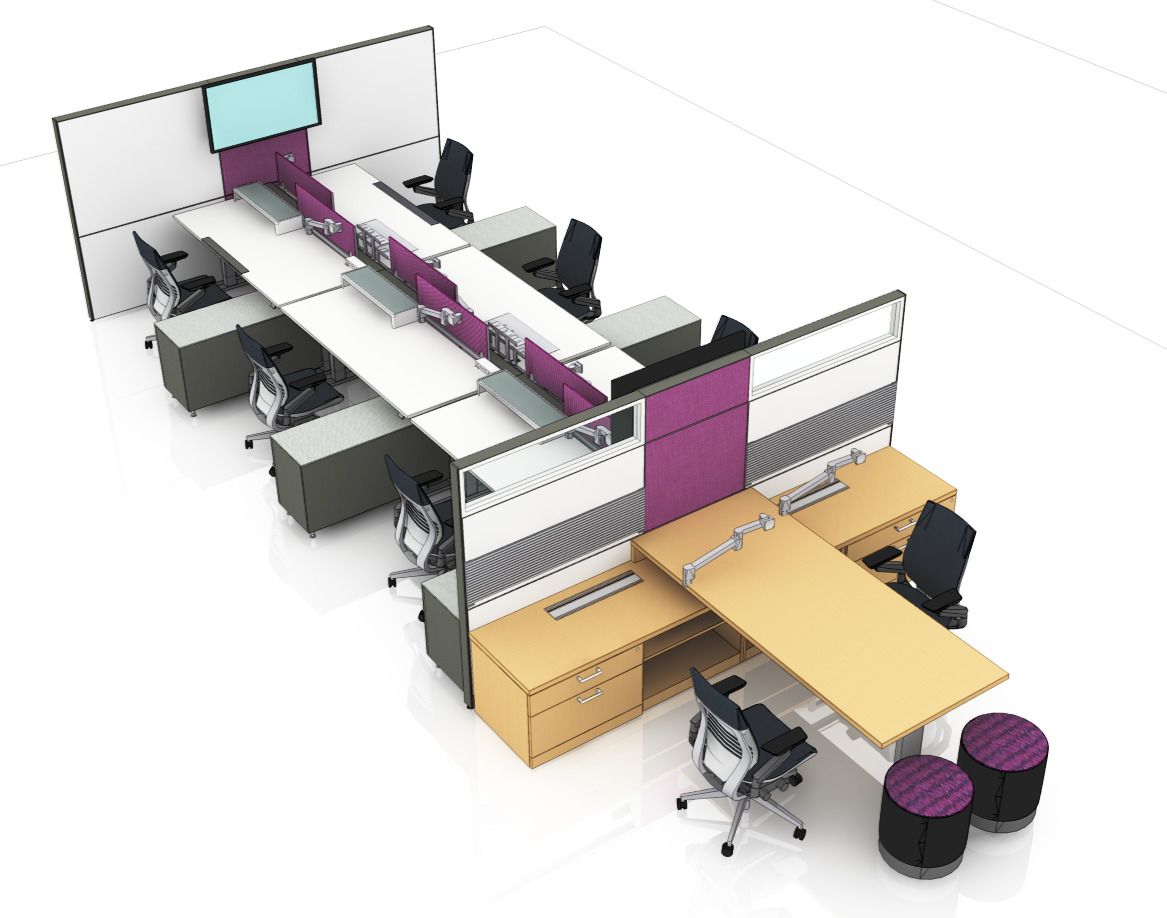 Tracy Corona, Design Manager and a member of the project team, is now a nomad with her choice of workspaces to occupy based on need, including finding the perfect spot to meet with clients. "Clients are beginning to understand how their space is a complex ecosystem that can meet the needs of unique employee work styles, ever-evolving work modes, and deliver the brand message. And we have tools and data that support this unique and powerful relationship," says Tracy.
Jayme Arezzo, Vice President Arizona, notes, "People are visibly happier, collaborating more, and able to focus when needed.  There is a palpable energy in the space.  I feel more engaged and often have spontaneous interactions.  I can't imagine going back to a private office."
Tour The Space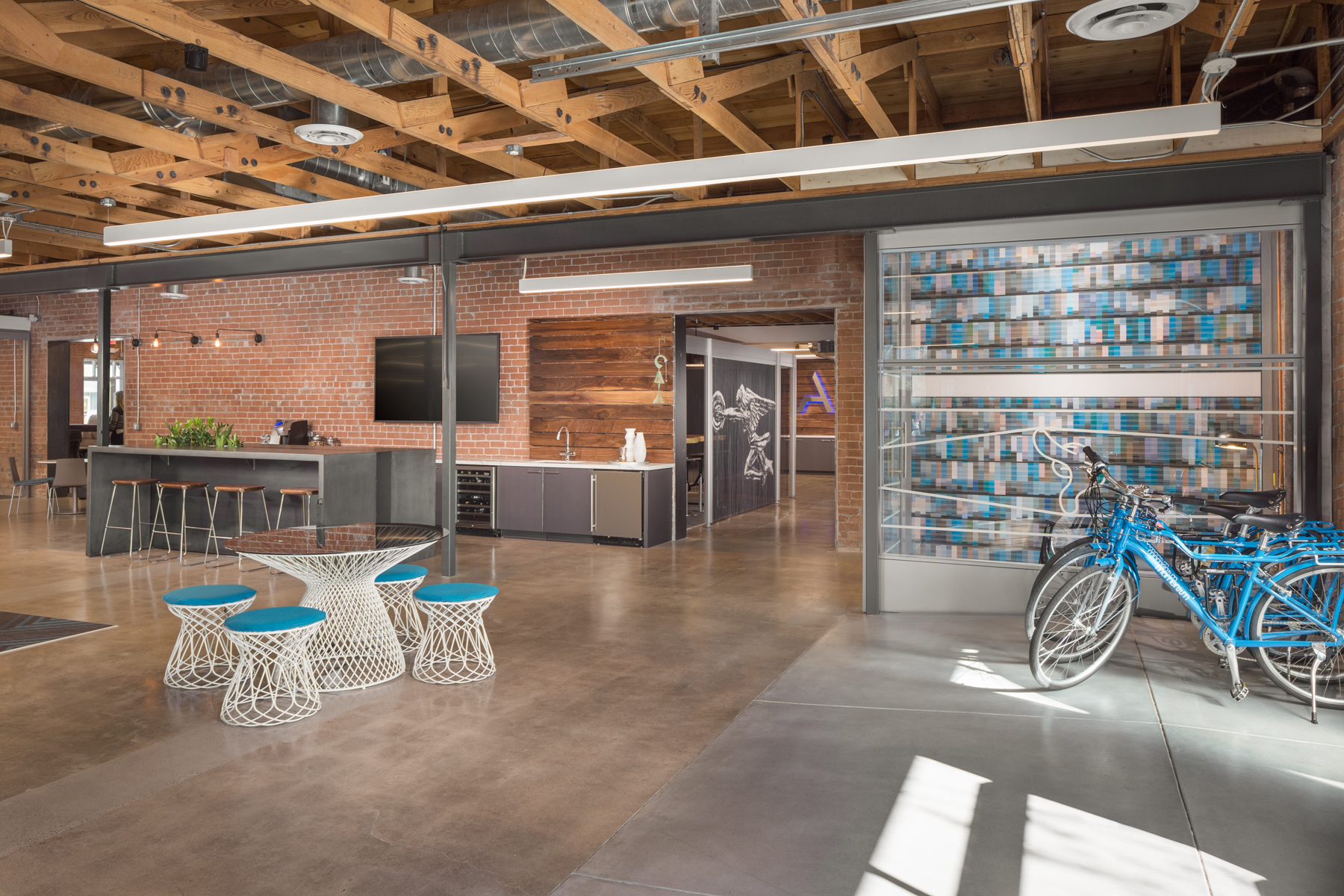 Welcome!  Working with RSP Architects and Steelcase, we co-developed the open, clean, and a little bit edgy vision for the space that was a perfect blend of natural building elements and the spirit of our brand. The entrance includes a large garage door that when opened, turns the space into an indoor/outdoor experience.

Moving 36 team members from Tempe to Phoenix began with a cultural assessment and workstyle needs analysis. The move was not only a physical one, but we shifted 50% of dedicated workspace to nomadic options, and matched the variety of spaces with the team's needs for private, shared, and respite spaces.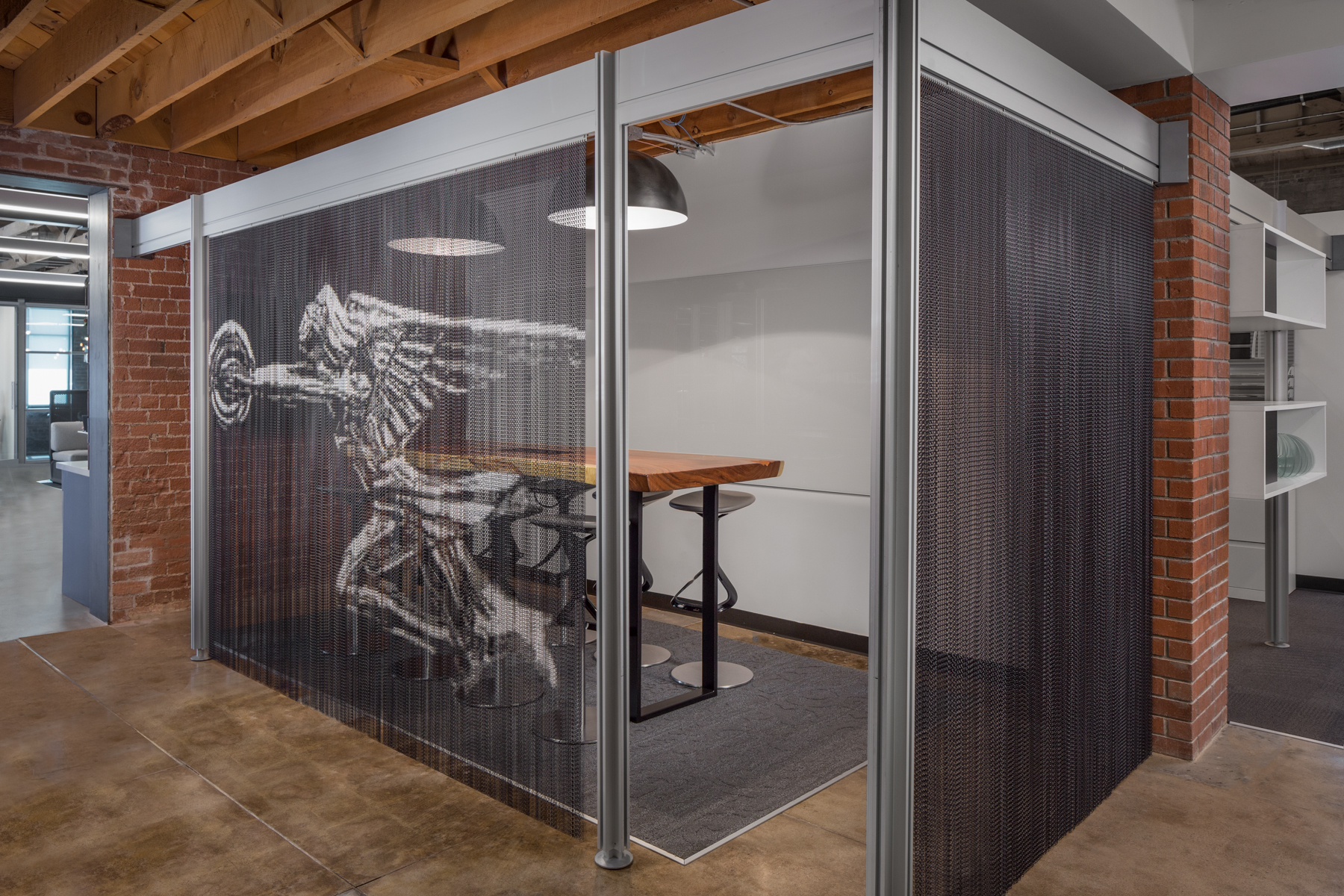 Energy and excitement are expressed throughout the space, through the selection and application of materials, textures, finishes, art, lighting, and layout.
The space is divided along a spectrum of individual, shared, private, and respite spaces. A mix of warm and cool, and natural and industrial materials delivers an inviting and engaging palette of places to focus, collaborate, and recharge.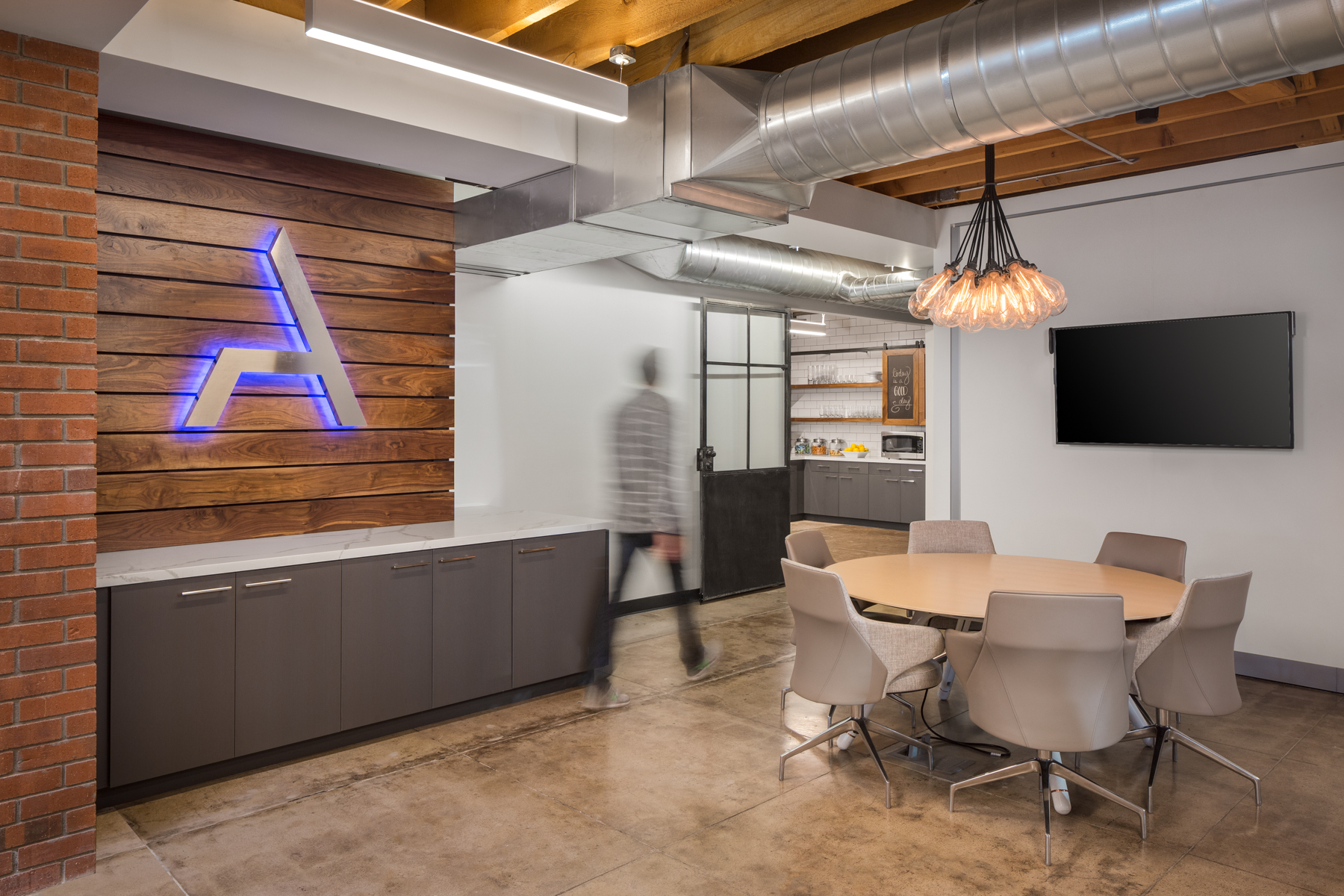 Brand as Art: Thoughtful application of lighting and signage are striking touches that provide a compelling integration brand and space.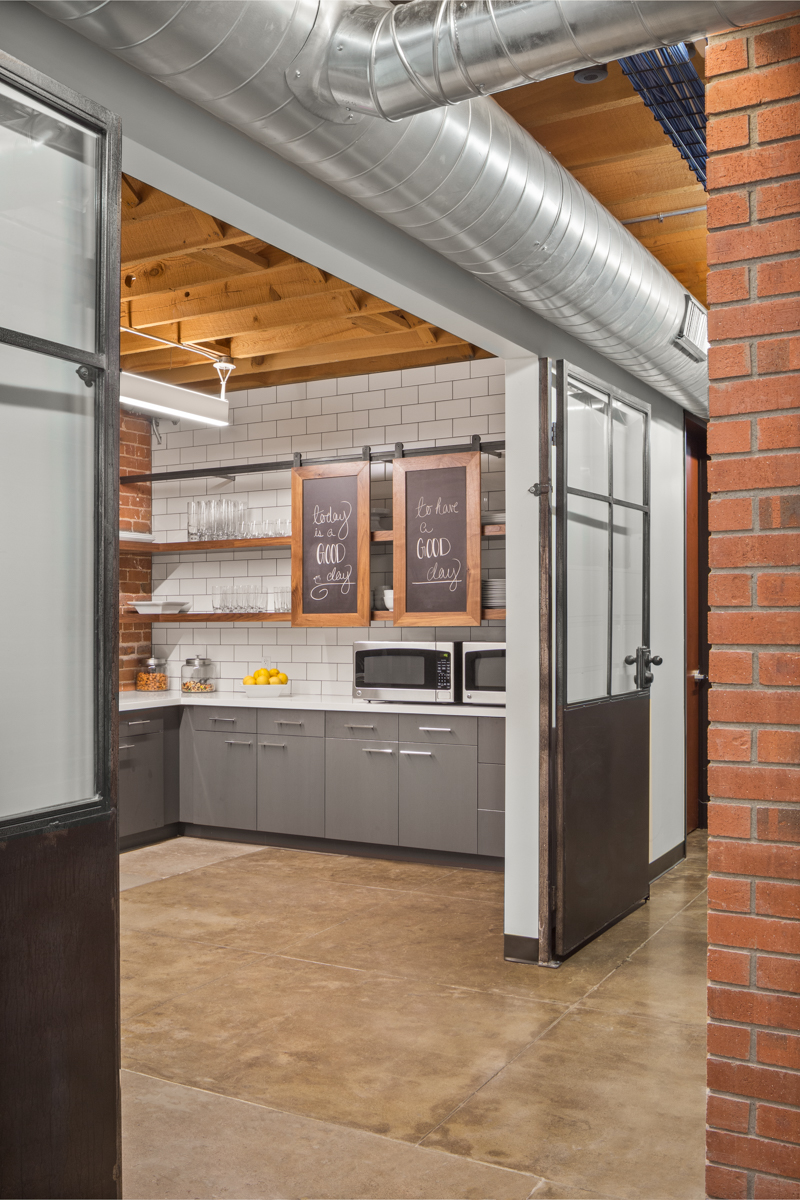 The Work Cafe is designed to deliver the type of fresh and quirky experience you might find in an independent downtown restaurant.
The dymanic space invites team members to find the space that best suits their needs. According to a study by McKinsey, when we are allowed to choose options through self-discovery, we are more committed to the outcome by a factor of 5:1.  Fostering a sense of ownership through providing the right spaces and tools at the right time enhances productivity and engagement.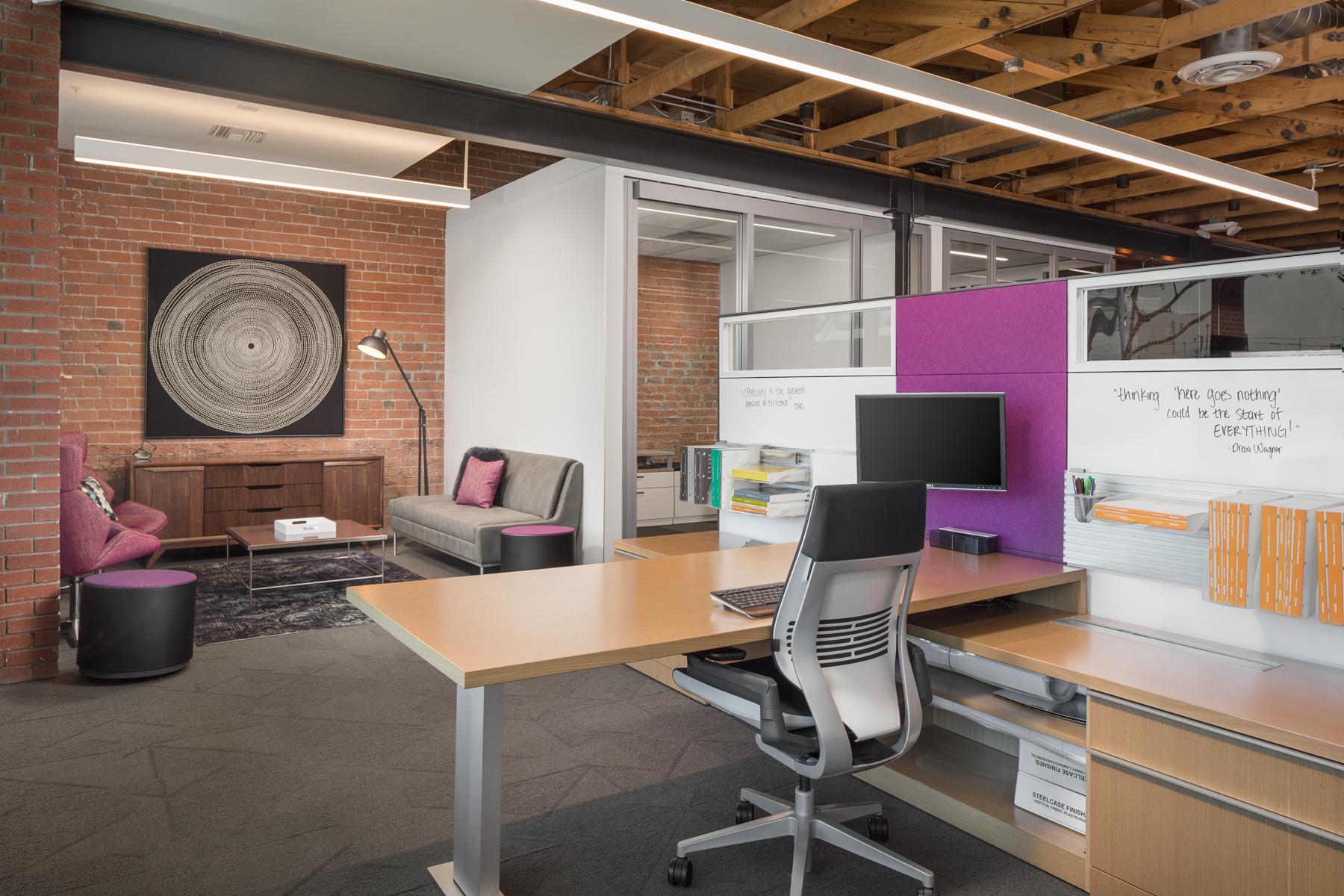 Each work or respite space embodies a unique personality, yet there is a sense of connection through the clear communication of purpose, materials, and harmony with the historic building.
Photo credit: Kyle Zirkus Photography
We've been busy!
Visit the Phoenix location's Facebook page to learn more about our Events and Community.
Elsewhere in Arizona
Our new Tucson, AZ location is now open for business at 88 East Broadway Boulevard, Suite #100, in the Tuscon Electric Power building.