The technical approach in our showroom today focuses on a few key concepts: mobility, simplicity, value and credibility.  This is a significant change in strategy that was fully realized with the remodel of our Minneapolis WORKLAB in 2016.  In prior years, utility- or cable-management was all the rage, so technology was often a design afterthought, as well as a frequently cited source of frustration for teams and the tech providers supporting it.  It also hurt our credibility with clients, requiring specialized resources to conduct telepresence meetings or present technology solutions to clients.  Our leadership team embraced a cable-free, ease-of-use approach and focused on great products, AV and technology solutions. The four pillars of this new strategy included: 
Mobility is all about giving our internal clients choice and control over how they work and where.  At its core is a "mobile–first" wireless infrastructure and WAN services optimized to reliably deliver high quality voice, video and fast file copies for our marketing and design teams.  It also provides the ability to support nomadic workers and realize the savings of working in a smaller space that costs less per square foot but doesn't negatively impact productivity. The move to Skype for Business versus traditional phones untethered team members from their desks, reducing clutter and making it easy to work anywhere. Eliminating hardware PBX solutions also saved significant money for the dealership in direct IT costs for maintenance, PRI circuits and service contracts, in addition to requiring fewer switch ports and physical cabling in our buildings.
Simplicity as a technical design concept focuses on the "UX / User eXperience" by implementing solutions that are predictable and consistent throughout our space.  In collaboration space design, this required a focus on fewer options, but making the design as intuitive and automatic as possible.  Eliminating "control panels" in favor of "when you connect it, things just happen" automation made rooms simpler to use and leveraging Skype for Business as a standard collaboration tool for individual or group meetings of any size means users can focus on becoming proficient with a single versatile tool rather than many specialized solutions. 
Value is often mistaken for low cost in the IT world, and our pre-renovation technology portfolio demonstrated this by costing little to implement, but a lot in lost productivity and lost credibility. We consider technology investments in the context of 3-5 years and include the often–missed impact on productivity, real estate costs, support/maintenance requirement, as well as how a bit of kit fits into our WORKLAB narrative. (What did we learn and how do we share it?) 
Credibility is the last, but in my opinion, most important element of this strategy.  In terms of our space design, any bit of technology installed must be justified within the context of meeting our own business needs – we don't show things that don't get used and don't have a genuine value to our business that can be explained and shared.  If our applications of technology and space are credible, it elevates our credibility with clients, and then not only do we make thought-provoking investments that are easy to explain, but we also show we are smart with managing our resources.  It's also important to build credibility with our end-users; if they don't trust our technology, it's impossible to be credible with our customers, so we need to listen and adapt quickly when necessary.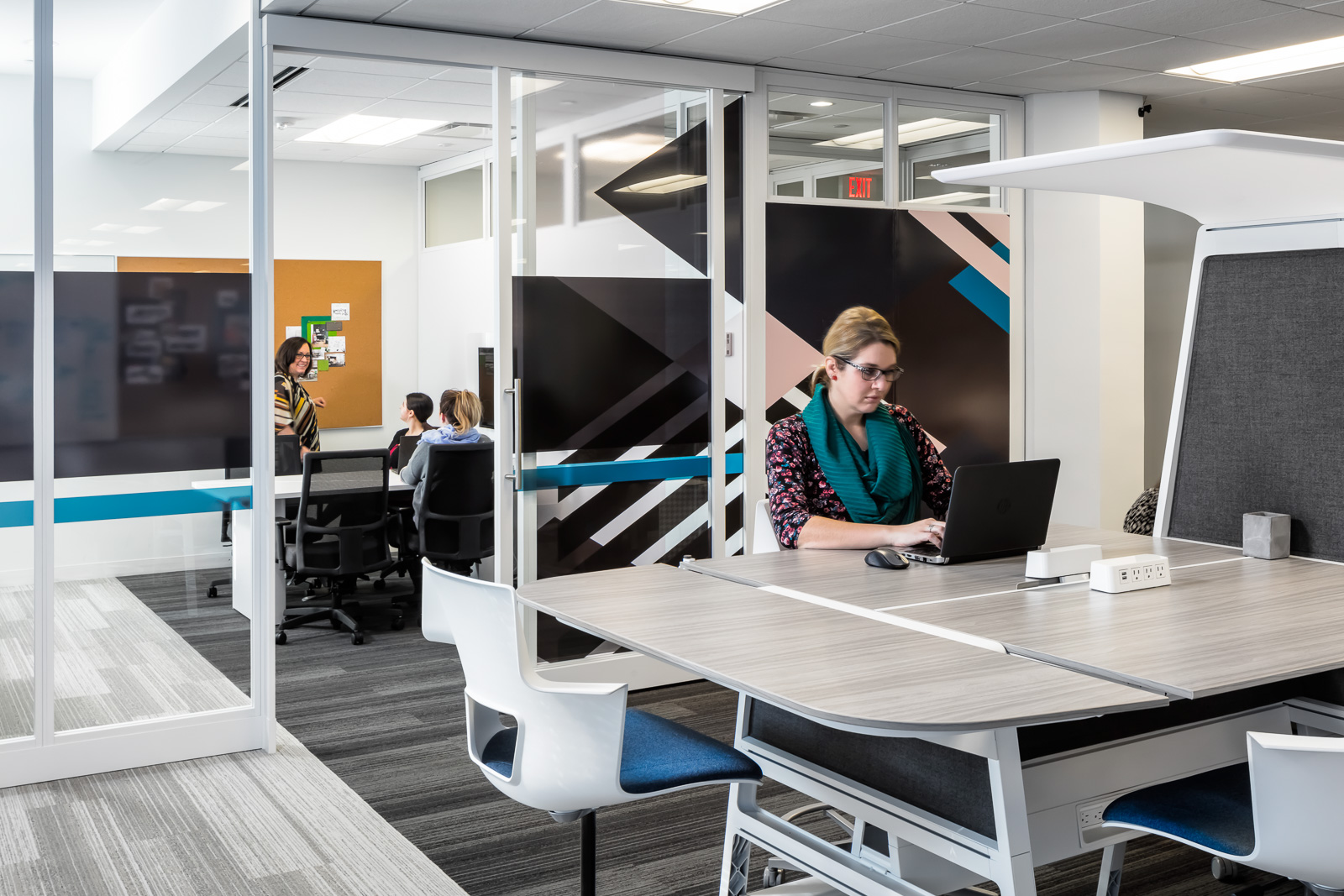 Senior Interior Designer, Kelsey Wickland, shares her thoughts on utilizing technology in our WORKLAB: 
"I love how simple and easy it is to share content in our space. By just clicking a button, we're able to display our screen, no matter what device we're using. This is great from a design perspective as it allows us to co-create alongside our clients, providing a more efficient and agile experience. Our team can work collaboratively with clients and keep them actively involved in the design process." 
This article is co-written by Jodi Hoberg, Marketing Assistant, and Jason Lund, Director of AV and IT