Our Phoenix team has been invited back into the worklab full-time after two weeks at reduced density. Prior to re-entering, the team at Atmosphere Services completed a deep cleaning, sanitization and disinfection of our space. Information on these cleaning services, which we are now offering these to our clients, can be found on our website. In addition, our regional leadership team collaborated to roll out new protocols for the health and safety of our team members and guests.
For our initial return we implemented shift schedules to ensure that no more than 25% of our team was in the space at a given time, which allowed us to flex for visitors and appointments. Today, all active team members have the opportunity work in our space on any given day. While our worklab remains open, we do require that guests schedule an appointment and review our visitor policy before visiting.
In terms of retrofitting and reconfiguration, we have temporarily suspended our nomadic environment and have assigned a seat to each team member. Furniture has been removed from common areas to maintain proper social distancing and occupancy signs have been installed throughout the space.
We continue to monitor the success of our new protocols to ensure they align with state guidelines and are feasible for team members. In the floor plan below you can see where team members have been assigned specific stations to work during this time.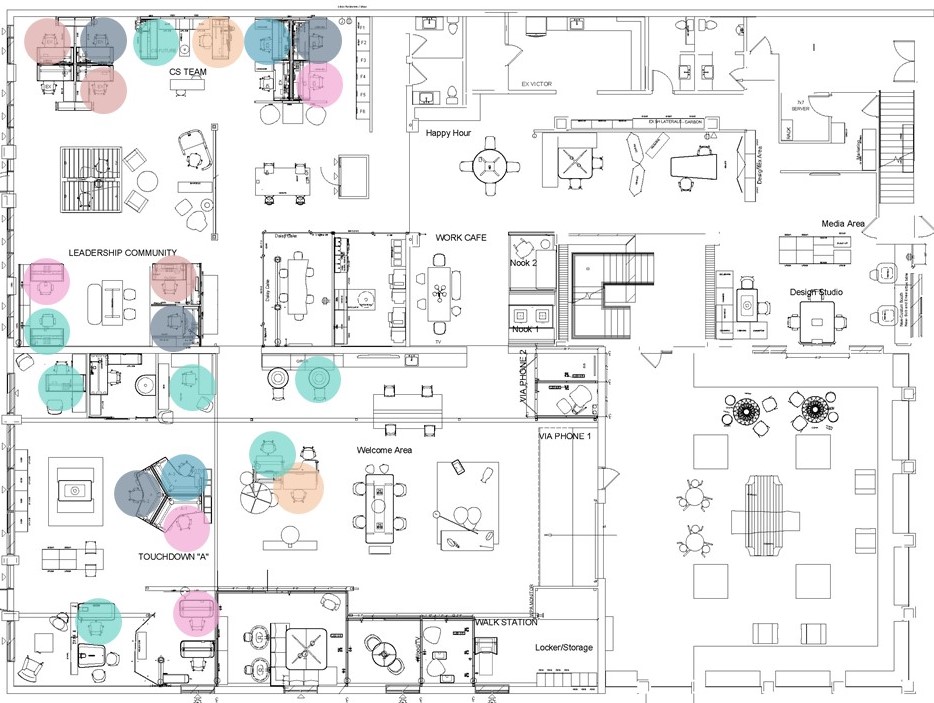 We expect to continually adapt our space throughout the months ahead with the help of Steelcase research like Designing for the Post-Covid Workplace.
"During the past few months, we have really missed our face-to-face connections and the culture that makes us who we are. We are seeing this sense of urgency with our clients right now as well. They want a space and a place to return to work, but need to ensure that it is safe and productive for their employees. They are asking for our help with increasing separation, reorienting users, rethinking materials, and protocols that will get them back to the workplace. There is still so much information to come on the evolving workplace and it will be fascinating to see how the pandemic will shape office design in the future."

– Melissa Machain, Senior Interior Designer