Facility managers, corporate architects and designers have been reacting with a myriad of design and product solutions to safely bring people back into the workspace, including redefining how space is laid out, more mindful technology integration to unite off-site and onsite workers, creative outdoor footprints, and exploring anti-microbial finishes— once only typically used in healthcare applications.
Based on our survey responses, almost every respondent has implemented a change to their space to increase safety and comfort levels. For instance, wearing masks and access to sanitization supplies appear to be wide-spread practices, and even state-mandated in some locations.
In many larger workspaces, limiting the population in an office is sometimes easier for employers to implement and can help to avoid costlier, permanent solutions such as additional furniture solutions or floorplan changes. Partial occupancy may be a factor of both employers limiting occupancy, and work-from-home support and capabilities.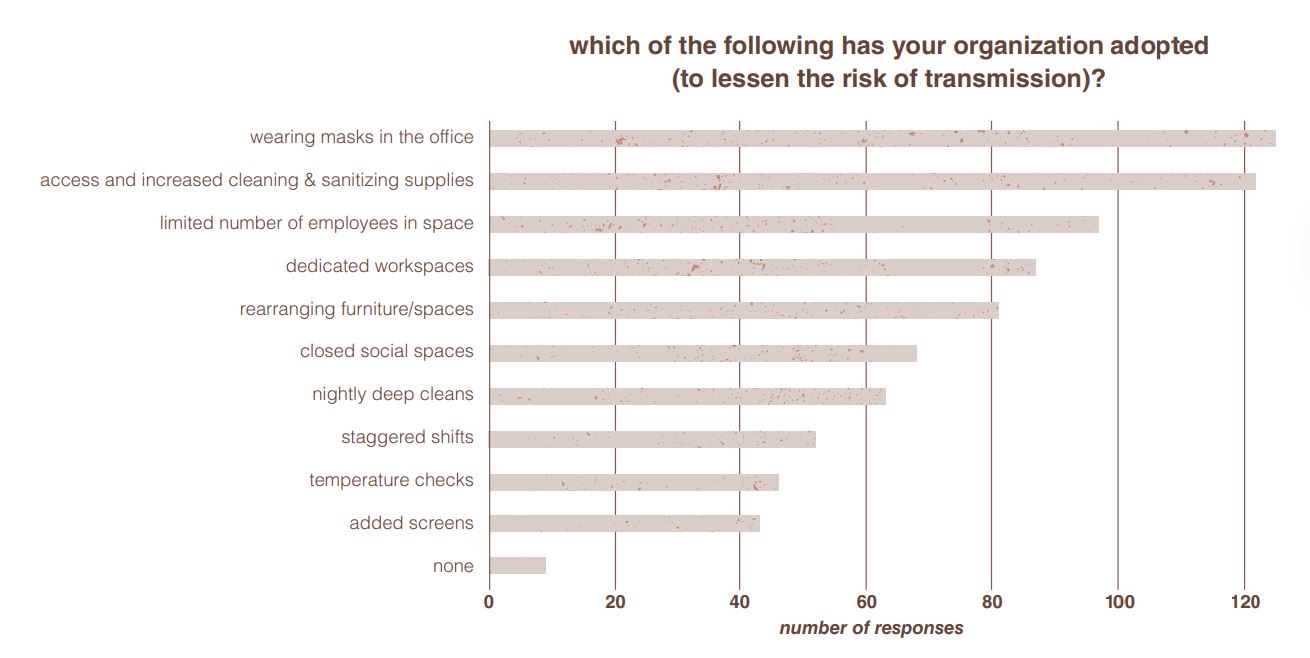 What's Next?
From a September 16, 2020 McKinsey briefing note, COVID-19 and The Great Reset, employers should look at their current budgeting and planning season as an opportunity to reset and emerge from the crisis stronger than before.
As we prepared to re-open our own Worklabs, our teams spent hours of planning, designing and executing new protocols and safety measures— tasks that we were thankfully able to complete in-house because of the breadth of experience in our team members!
Through this work, we are able to continue to provide a nurturing and uplifting environment that strengthens social ties, well-being, and organizational purpose. Through digital, video or in-person visits, we are encouraging our space to be used as a place to bring people back together in a stronger, more intentional way than ever before.
---
Read the complete elemeant Fall issue