We're here to help!
Our products are backed by some of the strongest warranties in the industry, and we want to ensure you have a great experience over the lifetime of the product.
Steps
Please fill out this form so that we can deliver the highest level of professional service and support.
Product details can often be found on the manufacturer tag on the underside of your furniture.
The tag will be similar to the example pictured here: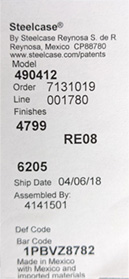 We will review your information and contact you within 2 business days.