We recently underwent a massive renovation in response to fundamental and rapid changes happening in today's workplace.  As we were re-thinking our space, we considered what the workplace could be and more importantly what it could accomplish:
a better place for our Team Members to work that enhances collaboration and provides places for privacy to improve productivity
a place that inspires and engages our Team Members and can also attract new talent to Atmosphere while bridging multiple generations
a place that strengthens our brand and culture
a place that enhances the wellbeing of our team members
a place that optimizes our real estate investment.
We Blurred the Edges
Throughout the 29,000 square foot space you'll find local Minneapolis inspired art, ergonomic furniture and biophilia to stimulate employee wellness, and innovative technology that invites collaboration. Unique features such the ceiling baffles and vintage lights that are original Young Quinlan fixtures, add warmth and character to the large space. The overall aesthetic of the space relies heavily on the resimercial trend, which 'blurs the edges of the traditional office to create places people love to work,' a concept championed by Steelcase.
The Only Constant is Change
Collaboration and creativity are critical to giving organizations the edge they need to stay competitive in today's business environment, and disengaged employees will not feel compelled to do either. And disruptors such as technology and mobility, and issues such as a lack of engagement, are challenging leaders to lead in new ways.
"The new generation of workers place a premium on choice and control, mobility, and making connections online and offline," says Kari Anderson, Atmosphere's Insights Consultant and Team Lead for the renovation project. "Our clients want their spaces to channel their brand and unique benefits to encourage engagement and support recruiting efforts, yet be resilient against the fluidity of the business landscape, headcount shifts and evolving generational differences."
When it comes to instilling purpose, inspirational words on a website aren't enough. Companies need to strategically and proactively connect millennials with the big picture. (Gallup, 2016)
Experiment and Flourish
Together with designers from Gensler, a global architecture, design, planning and consulting firm, the new WORKLAB is designed to reflect Atmosphere's culture and brand.  "Taking a cue from incubators, we infused sharing, investment and community to incorporate the spirit of experimentation, learning and growth," says Anderson. The space feels truly shared by all inhabitants, creates a sense of access to leaders who act as sponsors for ideas, and provides a feeling of community support, where your co-workers are encouraged to interact regardless of discipline. These concepts together fuel our WORKLAB approach, creating conditions for creativity, which drives innovation, and ultimately, growth.
"We purposely shifted the balance toward providing more innovative—and fewer traditional—work destinations for our clients and the design community to experience, because our space is a source of inspiration and workplace insights," says Carlene Wilson, President. The effect is similar to a NeoCon showroom, and like the annual NeoCon schedule, Atmosphere will now introduce new products and ideas on a rolling basis, instead of waiting 4-5 years to refresh the space.
Project teams also have a range of methods for visualizing and testing designs, with technologies such as VR and animation, plus sufficient space for full scale mock-ups.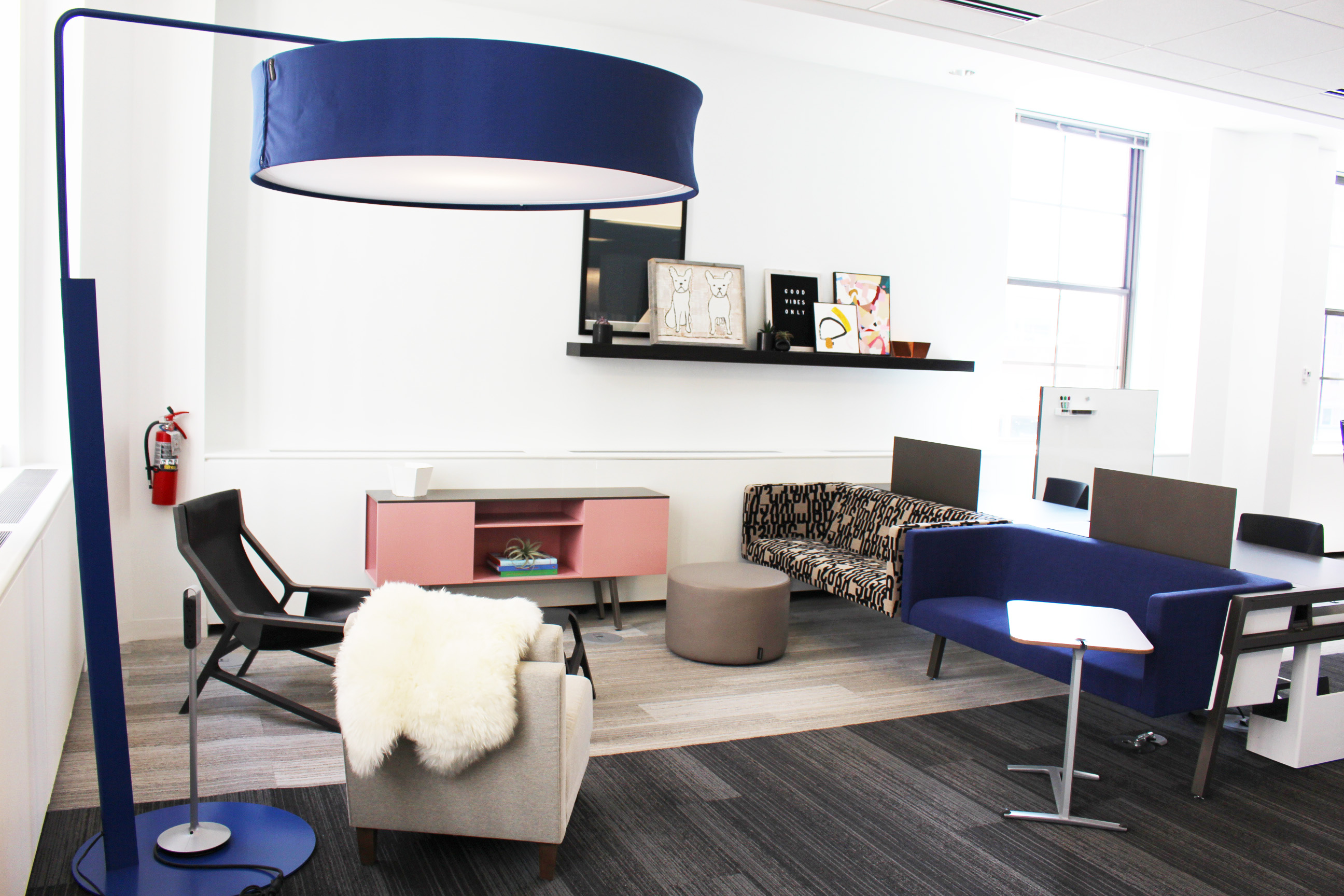 Future-Proofed
To accommodate diverse work modes, Atmosphere enacted a resilient real estate strategy, transitioning to a 50/50 split between Resident and Nomadic desking. All team members, vendors, partners and clients are encouraged to work in an agile manner to support Atmosphere's best place strategy. People are encouraged to work wherever they feel most productive.  This approach conveys the cultural support for experimentation, creativity, and innovation needed to drive the business forward.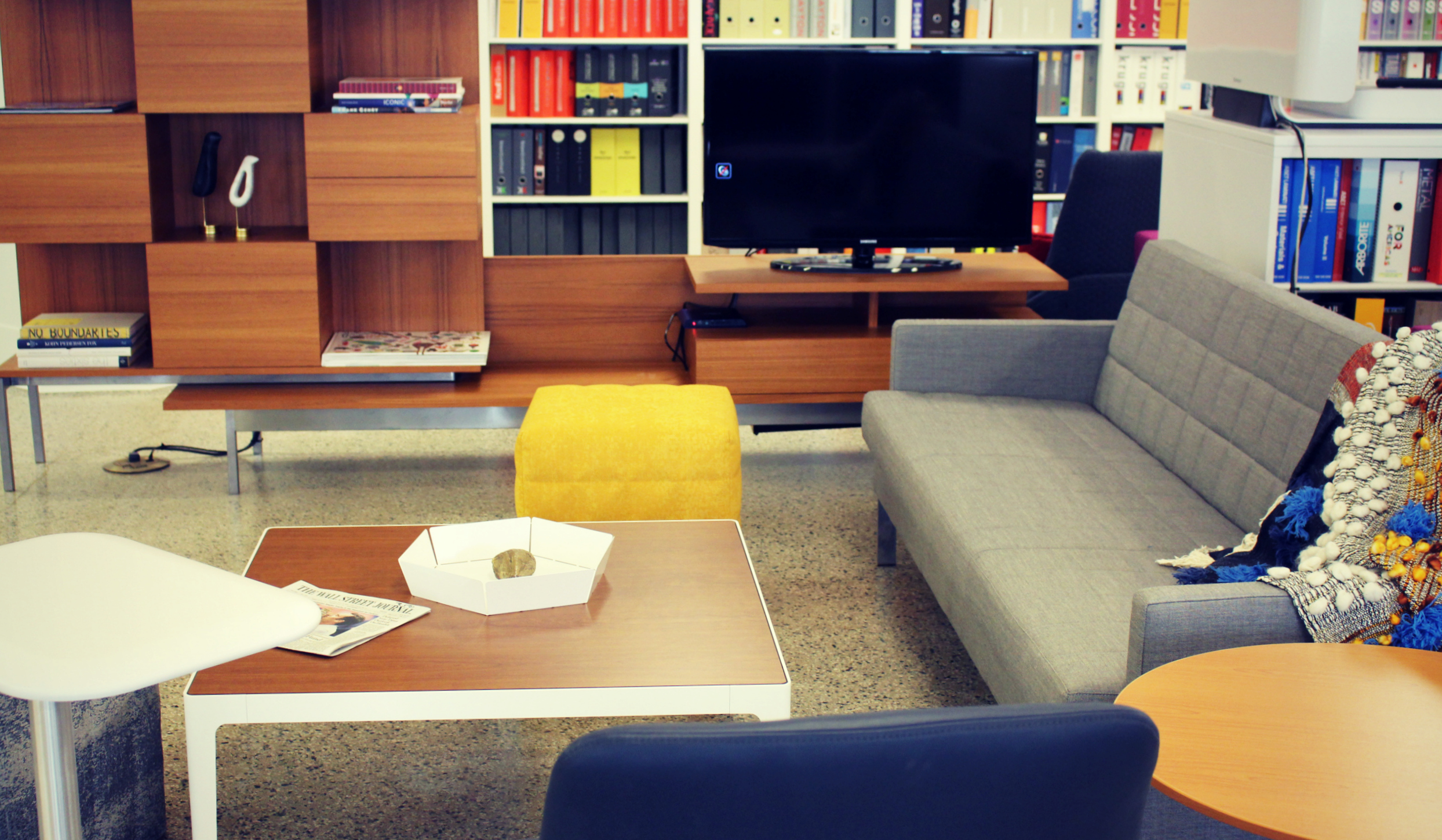 Choice and Control
A high demand and low supply of private spaces prompted Atmosphere to add ten 'tricked out' enclaves, two large conference rooms, and 11 more shielded collaborative zones.
Wellbeing
Respite zones were added to support wellbeing, including a Mother's Room, café facilities, lounge areas, and a living room complete with fireplace.
Brand in Harmony
The fourth floor is now the primary client-facing space, with the remaining space on the third floor dedicated to rounding out a full spectrum of workspace planning ideas. A striking floor-to-ceiling glass wall greets visitors as they leave the elevators, which marries a pleasing modern experience with the building's historic architectural character.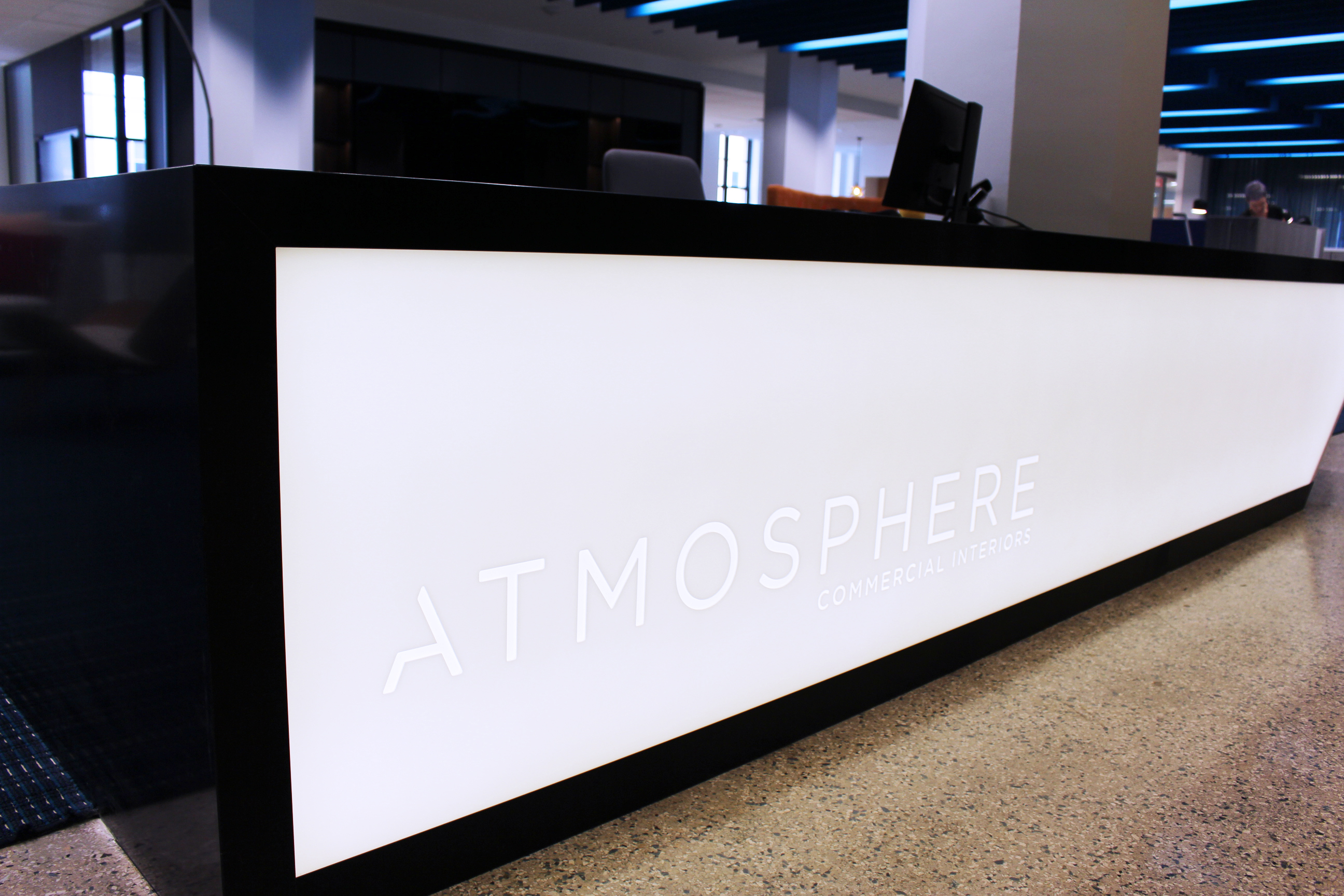 Smart Space
Occupancy tools were added as a resource to help team members easily locate open workspaces. A real-time sensing system is connected to monitors that display heat-sensored maps of occupied and unoccupied areas. In the WORKLAB, these are used to study usage patterns and analyze underutilized workspaces. "Putting data behind office occupancy ratios will allow us to increase operational efficiency", says Jason Lund, Director Information Technology.
"Using objective occupancy data to understand usage trends in a client's workspace allows us to quickly identify opportunities and propose solutions that will make their space more cost effective and their teams more efficient.  The potential savings for our clients are huge, as our analysis of this data paired with our team's insights into solving workplace issues helps us both identify and prioritize solutions with the greatest potential ROI in real estate costs and the engagement + productivity of their teams."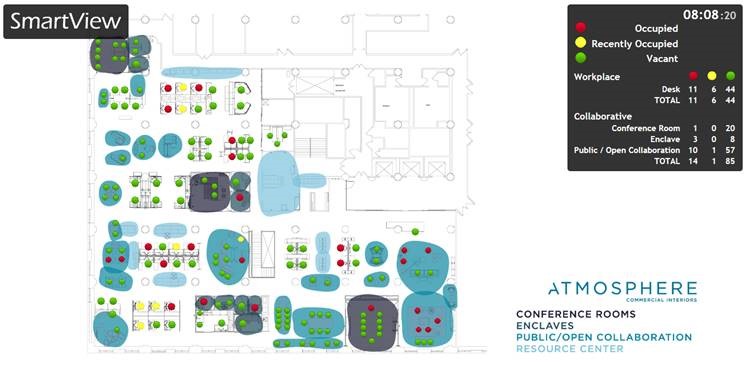 Integrated Technology
Atmosphere also provided WiFi access throughout the facility, dual monitors for high task-oriented work, and installed Microsoft Surface Hubs which allow employees to be creative and collaborate on the fly. "This project is a trend-setter in terms of a fully integrated IT, furniture and fixtures strategy," says Lund.
A sleek 4K video wall is the crown jewel in the upgraded visual and digital messaging strategy that delivers information at the speed needed to support a high-energy organization, and to enhance the client experience.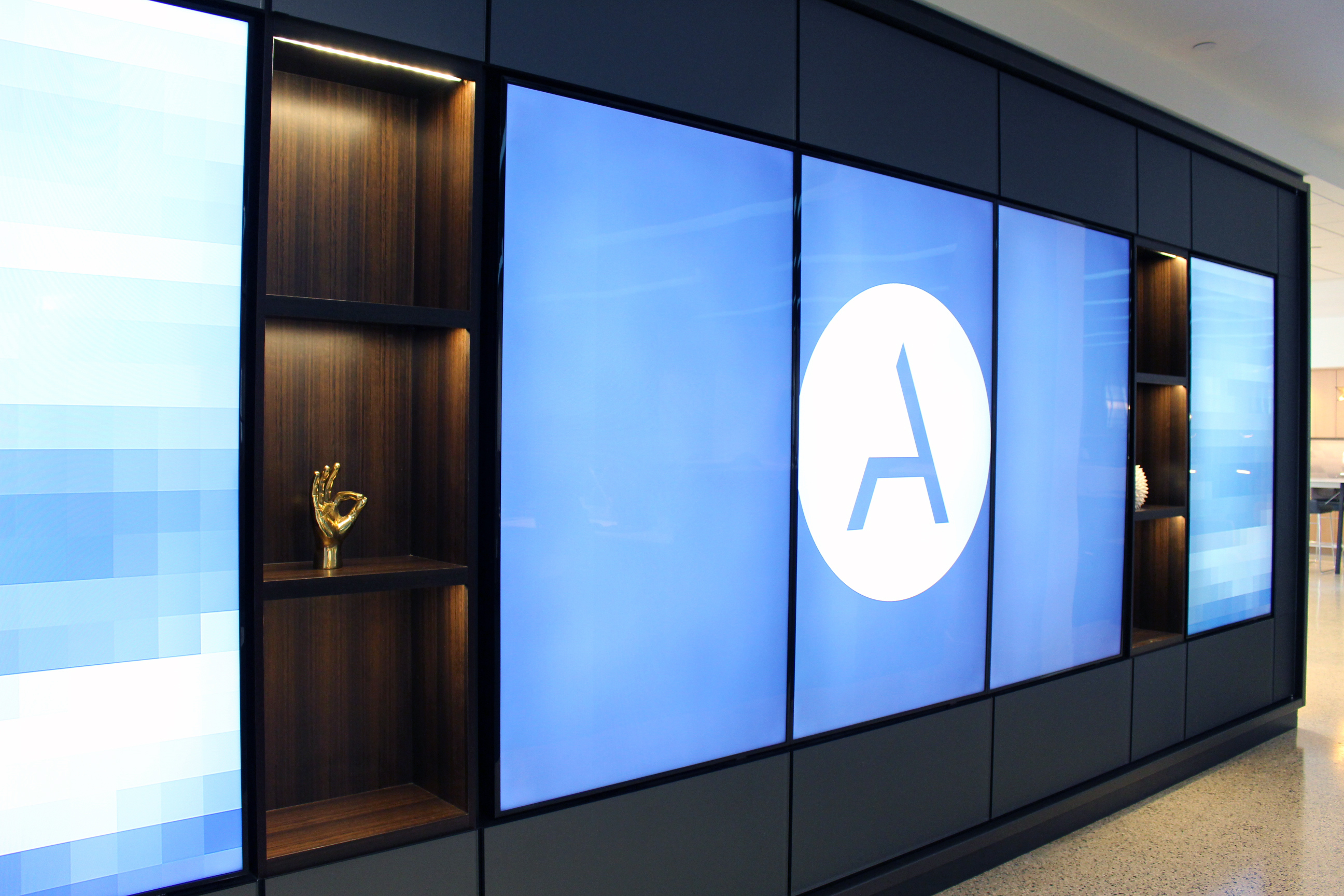 Lead with Purpose
The design team also accommodated the leadership team's desire to model organizational performance and drive an adaptive and agile workforce. Leaders shifted from private offices to open workstations and were placed in a crossroads position between neighborhoods. There are private and collaborative spaces directly adjacent to the Leadership workstations, as well as a technology-ready and soundproof conference space.
Following a leadership community concept helped the team create a space that support the unique needs of each discipline, but remain integrated and accessible to the surrounding teams. The result is that leaders can support their departments, contribute to wider cultural shifts, and remain adaptive to the needs of the business.
Connect the Dots
Uniting an organization behind a singular purpose can lead to significant results, and the facility is ultimately the body language of the organization. What message is it sending? "Your workplace design strategy will project your organizational purpose, which is a powerful tool to align your people with your vision, reshape corporate culture and organizational performance,"  says Wilson. "We are proud to have achieved our goal of providing a supportive, adaptive and engaging space to work. Each space in the facility has a purpose, a connection to a business need, and is designed to be inviting, inspiring and responsive to individual needs. Team members, clients, partners and guests will experience a positive connection with the environment and organizational purpose."
Atmosphere embraced the shift from conventional to creative to give their team members an inspiring work environment that fosters collaboration and innovative thinking, and connects the dots between their people, place, and purpose.