Please join us in welcoming Jenny Lysne to the Atmosphere team in Minneapolis! As our new Education Workplace Consultant, Jenny will lead our education team and help clients optimize active learning ecosystems that support pedagogy and integrated technology in the classroom. Read below to learn more about Jenny! 
Can you briefly tell us about your career journey?
When I was 24 and pregnant with my first child, I was working in marketing at St. Paul Book & Stationery and was creating furniture pages for the School Catalog when I was asked to help exhibit at the MN School Board Show—I was instantly hooked!
Later that year, I went to the MASBO Annual Conference (MN School Business Officials) and met great people who had a true calling for education and drive for building the best possible classroom environments. I found that Superintendents and School Board members have such incredible experiences and purpose. Before I knew it, my role in marketing was history and I moved into sales to support the needs of education clients.
Furniture has always been a passion of mine—I love being part of the creative process, capturing the details needed, and the execution and flurry of a successful installation. The process takes a collaborative, team approach and input from many stakeholders—it's never boring!
When the opportunity presented itself to focus only on furniture, I jumped at the chance and never looked back. I continued to work primarily on Education projects throughout my career at Corporate Express and then Staples (acquisition).
Are there any moments, projects or themes from your career that have made a lasting impact on you?
It's hard to pick just one! I've worked on more than a dozen brand new schools, plus hundreds of full remodels, additions, and renovations. Every project has its own challenges and unique needs! I would say that most importantly is that my client is happy at the end of the project. I try to meet that with quality product that fits each budget and that will last the life of the bond. Being a good steward of public or private funds is deeply important to me.
And education spaces have changed significantly over the past 10 years, and they continue to evolve to meet the needs of students! Some trends will not last the life of a bond and that's a challenge that I work closely with my clients and educators through.
What is your most memorable travel experience?
I love traveling—we live in an amazing world! One of my favorite memories is visiting a South African game farm whose mission is to protect endangered species from poachers and eventual extinction. Here is a photo taken of me in 2013 with a young white lion that was successfully bred in captivity.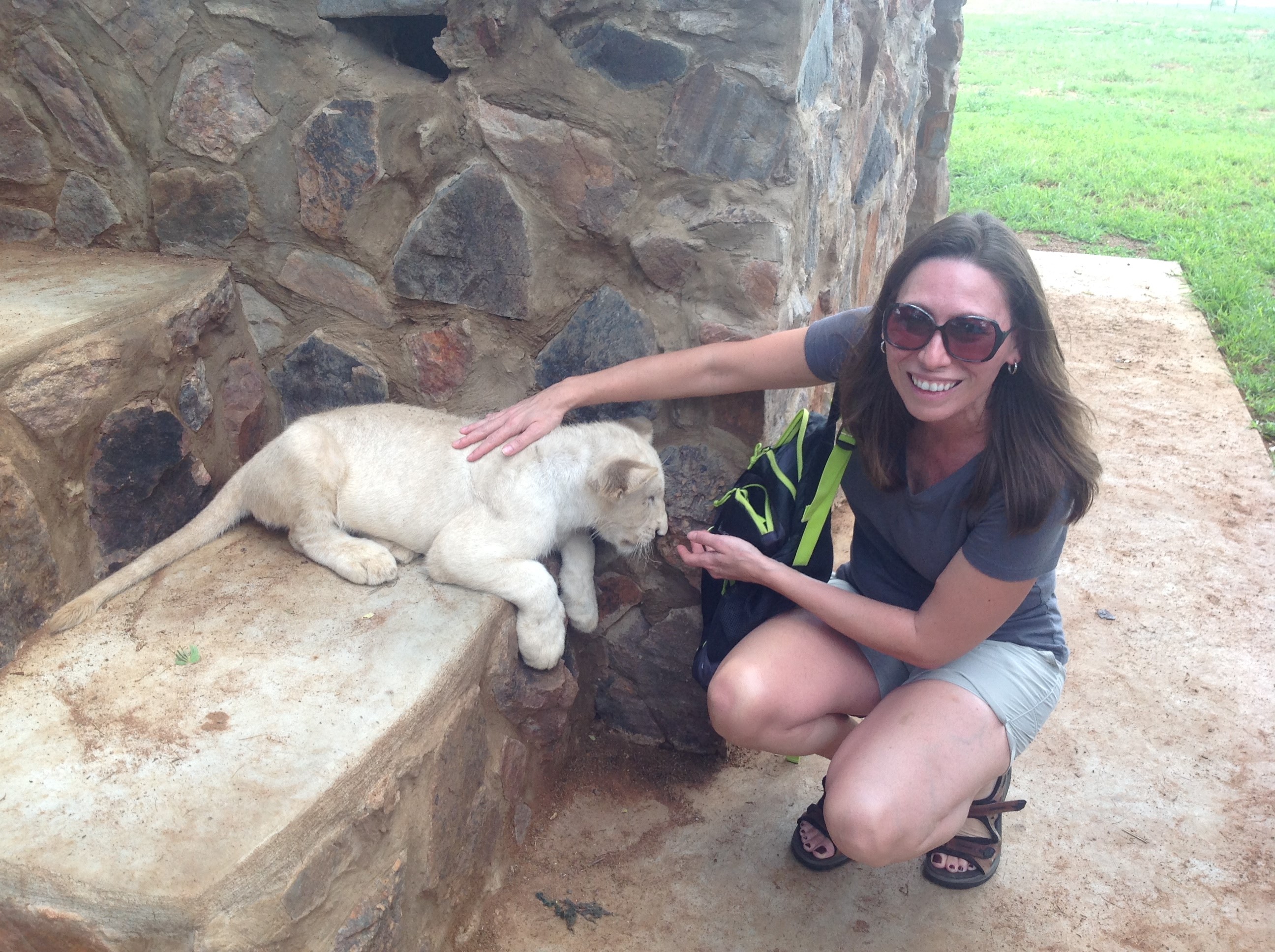 What song do you have on repeat?
There are too many to pick from! I love great 70's & 80's playlists, Chris Isaak, David Grey, Dave Matthews, Elton John, Norah Jones, Van Morrison and so many others!
What's your Starbucks order?!  
Vanilla Latte with half the sugar, please!!
What are you most looking forward to in your new role?
I feel very fortunate to have found a home at Atmosphere. Here, we believe that "place matters" and help people create better spaces to work, learn, heal and play. I'm excited to spend the rest of my career building a team around our education clients! The research provided by Steelcase is unmatched and will guide me and our clients as we build the best places for students to be safe, to grow in character and build confidence. Most importantly, we can help each student find their passion and strengths as they strive to create a life of purpose and change in the world. These are our future leaders! We must rise to that challenge and I can't image a more rewarding role.
Want to connect with Jenny? Say hello on LinkedIn!