As employers around the world navigate bringing their teams back into the office, many are faced with the challenge of assigning seats or moving towards a more nomadic environment, and the resulting impacts on their real estate. And with many workers having almost a year and a half of work from home under their belts, giving them choice in how, when, and where they work is more important than ever.
At Atmosphere, we have always had the power to work where we felt most comfortable in our worklabs, but our return to the office we once knew was altered by the need for health and safety protocols in a post-quarantine world, meaning our once-nomadic sales team now had assigned workstations. For some, the change was welcomed. For others, they were now required to complete their in-office work in a setting that they found to be distracting and inefficient.
Assigning stations also requires enough space in your office to allocate a specific desk to each person, should attendance be required for all. This poses a significant challenge for companies who may have chosen to downsize their square footage as a result of the pandemic. Those in this situation are well-poised for a hybrid workplace, where staff are able to work both in the office and remotely throughout the week. In fact, more than 68% of global organizations are planning to experiment with hybrid work, meaning people will be collaborating with a blend of remote and co-located teammates more than ever before.
When Steelcase began planning their own return, it became critical to update their choice and control principles to provide the basis for a new post-pandemic hybrid work policy. Click here to read their updated hybrid work policy. The most notable portion reads:
"We also believe in giving people choice + control – over how, when and where we work to achieve commitments and deliver results. We trust you to orchestrate your time and presence across your palette of place to best accomplish your work, and that may change from day to day as you move across the office, spend time with our customers or suppliers, do some work from your home, or travel between nodes of your ecosystem."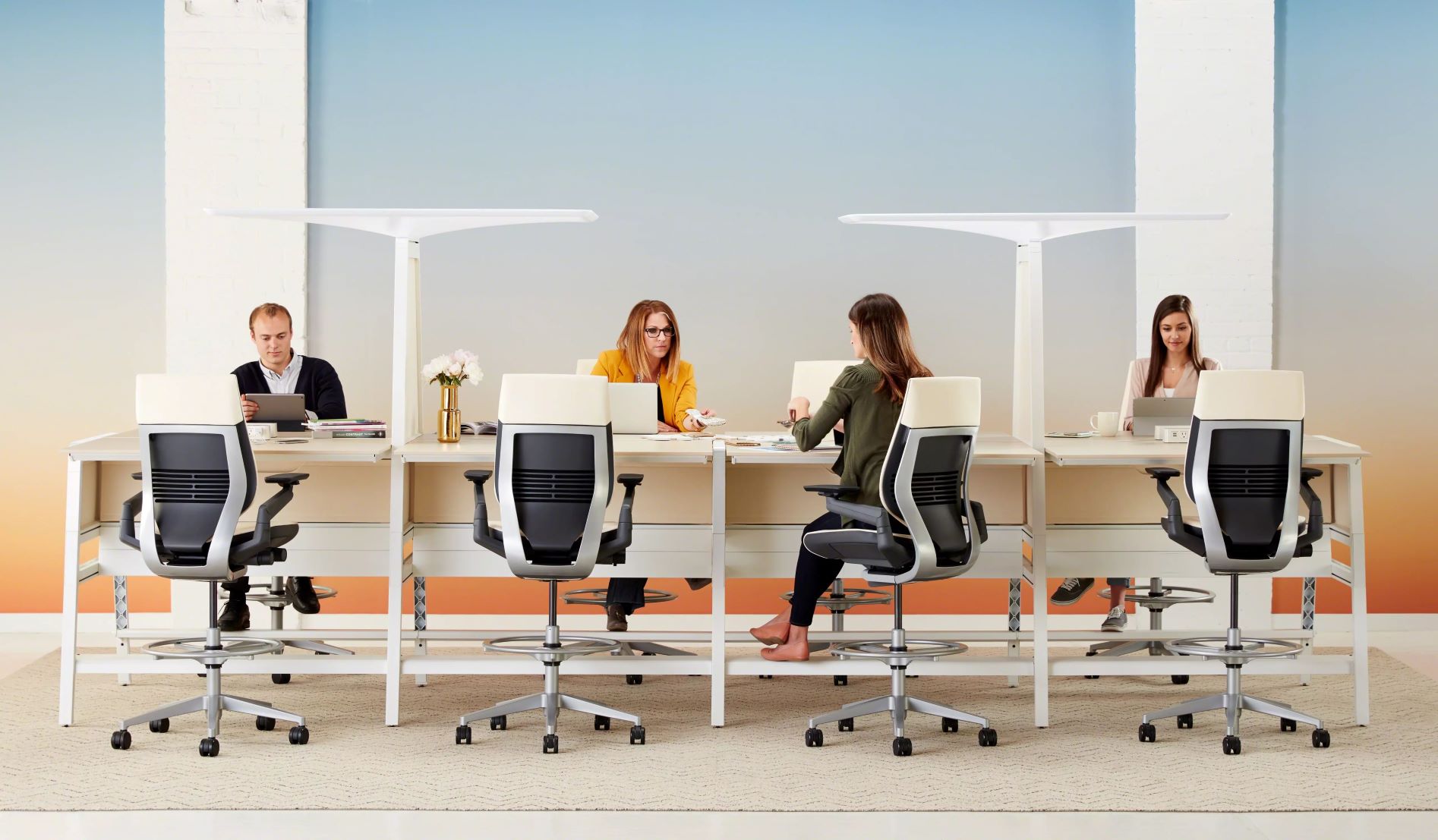 Many organizations are taking this opportunity to implement "hot desking" or "hoteling" spaces, where team members utilize scheduling software to reserve their workspace before coming into the office. Not only does this guarantee that they will have a dedicated space to work, it also gives leaders insight into what spaces are most popular on what days and when, paving the way for more effective space planning. Studies show that a significant number of employees are willing to give up their assigned desk in exchange for a hybrid work schedule.
At Atmosphere we have returned to a nomadic environment, trusting our teams to decide where and when their work is best completed. And the benefits are evident!
Unassigned seating easily allows us to maintain a clean desk policy (team members are assigned lockers for personal storage)
We can readily reconfigure department spaces without disrupting business operations
We've created an agile environment that flexes to the diverse needs of our users
We've reduced the need for the expansive real estate required by assigned seating
"For every organization, this moment of transition is a rare opportunity for a reset." This is our chance to re-energize our teams. How can we return to something better, where we feel safe, productive and inspired? One of our core values at Atmosphere is Better Together, but that doesn't mean we're required to be together every hour of every workday. It does mean that our worklab is where we come together to learn, listen, collaborate and problem solve. "The office is not dead. The office is very much alive – and the future of the office is human."