Workplace mobility has been top-of-mind for nearly two years, due to fluctuating workforce numbers, occupancy challenges, and changing employee expectations.
Returning employees are now requiring their once linear and static office spaces to allow for agile and flexible work, which can mean many things. While we don't expect teams to change their spaces every day, workspaces need to be reconfigurable should the need arise in the next six weeks, six months, or in the years to come. Like task chairs, adding casters to a product instantly increases its usefulness and creates flexibility in a workspace. Check out the latest mobile product releases below.
AMQ Amobi Collection
The AMQ Amobi Collection is a complete family of mobile products that support quick transitions from "me" to "we" spaces. This offering meets the new demand for multi-modal, adaptable offices that maximize space utility and recognize the interdependence of individual, focused spaces and collaborative, iterative ones.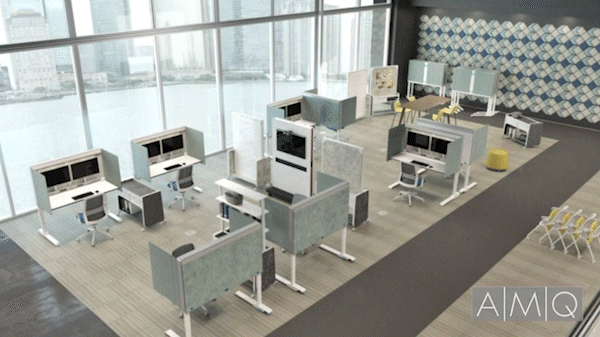 Amobi Desk
This fully integrated, mobile workstations that easily transport and fold up to store when not in use. Amobi Desk is available as Desk/One for an open workstation or Desk/Focus with magnetic side panels that offer additional privacy. Whether you choose One or Focus, Amobi desks are pre-assembled for an "unpack and go" workstation!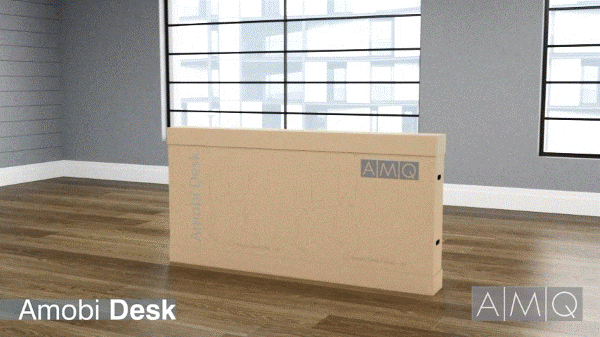 Amobi Team
Amobi Team is a family of mobile carts and walls that provide collaboration hubs, team storage, and space division. Amobi Team Walls and storage are felted, offering acoustical value, tackable functionality and a soft landing for your valuables. Use alone or integrated with Amobi Desk for spaces that are dynamic and adaptable to changing needs throughout the day.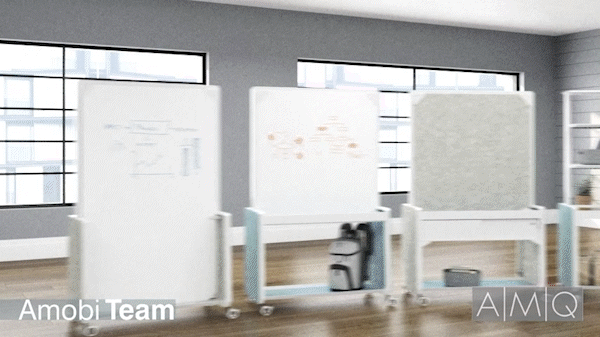 Steelcase Flex Collection
Since it's inception in 2019, the Steelcase Flex Collection has focused on empowering teams to create spaces that can be rearrange on demand to support teams' and individual's best work. The latest additions to the collection, featured below, offer soft corners and a wide range of material options to allow for personalization and expression in any team space.
Flex Seated Height Table
The Flex Seated Height Table can be used for a wide array of team activities – from individual focus work to collaborative work, or in in-between spaces. Available with glides and optional wheels, the Flex Seated Height Table is easily moveable.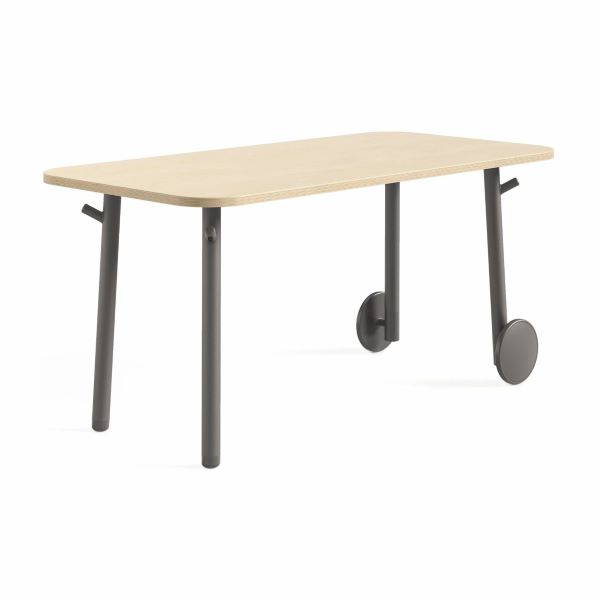 Flex Media Cart
The Steelcase Flex Media Cart is built to hold any monitor up to 65 inches wide. Move your tech of choice with ease across the open plan, into training rooms, and other meeting spots. Flex Media Cart helps make any space a digital collaboration space!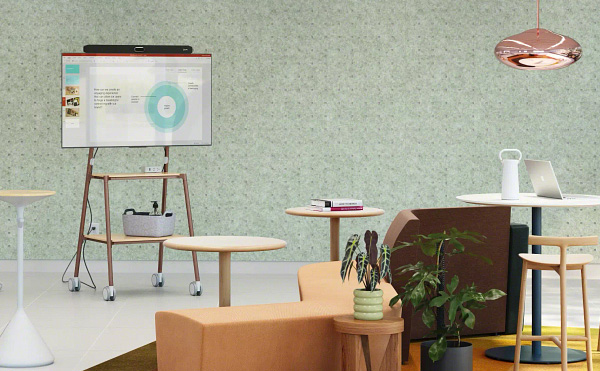 Guardiair Air Filtration Unit
Interested in equipping your teams with clean air as they move throughout your space? Air filtration can be mobile too! A Steelcase Partner Product by Clean Rooms International – the Guardiair Air Filtration Unit helps mitigate the spread of airborne particles that could cause infection, and it promotes cleaner air. The unit utilizes cleanroom grade HEPA-standard filtration, making it the perfect solution for private offices and enclosed collaborative spaces. Need to safeguard larger rooms? Bring multiple units together to support varying occupancy needs!
Come visit one of our worklabs to see just how mobile your workspace can be!