Phoenix Office Furniture Showroom & Worklab
Visit our Phoenix, AZ workspace to experience a holistic approach to architecture, furniture, and technology, plus our always-fresh design applications.
We partner with clients to design, furnish and deliver beautiful places to work.
View Booklet
Tours
VISIT OUR SPACE
Our Worklab is where we gather to do our best work – it showcases a unique mix of products and spaces that support both individuals and teams.
We'd love to show you around and share our experience with you! Give us a call or contact us to schedule a visit.
Note: We continue to strive to promote and protect the health of our team members and guests. If you are ill, please reschedule or contact us to arrange a virtual meeting.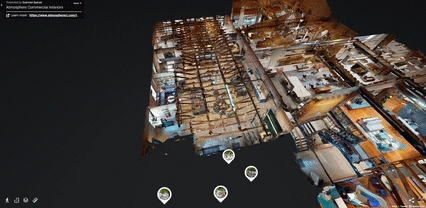 TAKE A VIRTUAL TOUR
If you're not able to visit in person, pop in to our virtual WORKLAB.
Like what you see? Contact us to schedule a visit or connect with our sales team.
Our Story
The Arizona offices and showrooms have a unique history spanning over 100 years.
The company, originally a small typewriter shop, was founded in Phoenix in 1919 by three enterprising brothers from Philadelphia, Peter, Phillip, and Richard "Dick" Walsh. In 1935, 'Walsh Bros.' expanded to Tucson to serve southern Arizona's mining communities.
Four years later, the company began selling office furniture, and in 1941 Walsh Bros. became an authorized Steelcase office furniture dealer.
In 2008, Walsh Bros. and USBI, another local office furniture business, were purchased by Target as part of an acquisition and expansion for Target Commercial Interiors.
Target sold Target Commercial Interiors in 2015 to Omni Workspace Company, and the business was renamed Atmosphere Commercial Interiors.
We opened a new showroom and worklab in the vibrant Roosevelt Row district of downtown Phoenix in late 2016. Housed in a former Packard showroom, the environment is designed to nurture physical, cognitive and emotional wellbeing, and is thoughtfully aligned with our organizational purpose, providing the optimal climate for engagement.
In 2019, we celebrated our 100th anniversary of the establishment of Walsh Bros. and our longstanding relationship with the Arizona business community. While we celebrate our past, we look forward to furnishing the future!
AZ Contractor's License # ROC 301402
Photo credit: Kyle Zirkus Photography