As we re-enter the workplace, our Minneapolis team is approaching this challenge as we would any project; we are listening, learning, and drawing on research from our partners at Steelcase. We are scrutinizing our Worklab through a new lens, bringing in subject matter experts, and gut-checking our theories with team members and leaders. The safety of our team members, clients, partners, and our extended communal impact are our number one concern.
In preparation for our return, our operations team deep-cleaned and sanitized our Worklab to create a safe and clean environment for our workforce.  Our plan includes a phased re-entry with team members easing back into the workplace on a rotating, graduated schedule to help them adjust to physical distancing. We've created clear, concise language for protocols based on CDC and local guidelines, and are sharing them frequently with our team through email, conversation, meetings, handbooks, and digital signage, ensuring that everyone understands and complies.
This is how we're responding in the NOW, and we will continue evaluating our approach as we implement our program. To learn more about NOW, NEAR and FAR planning stages, check out Designing for the Post-COVID Workplace from Steelcase.  For more information on how we can help you create a clean environment for your employees returning to work, visit our Cleaning Services page for details.
Here is our Minneapolis office fourth floor, with an overlay of changes we made to address density and enhance safety through division and geometry.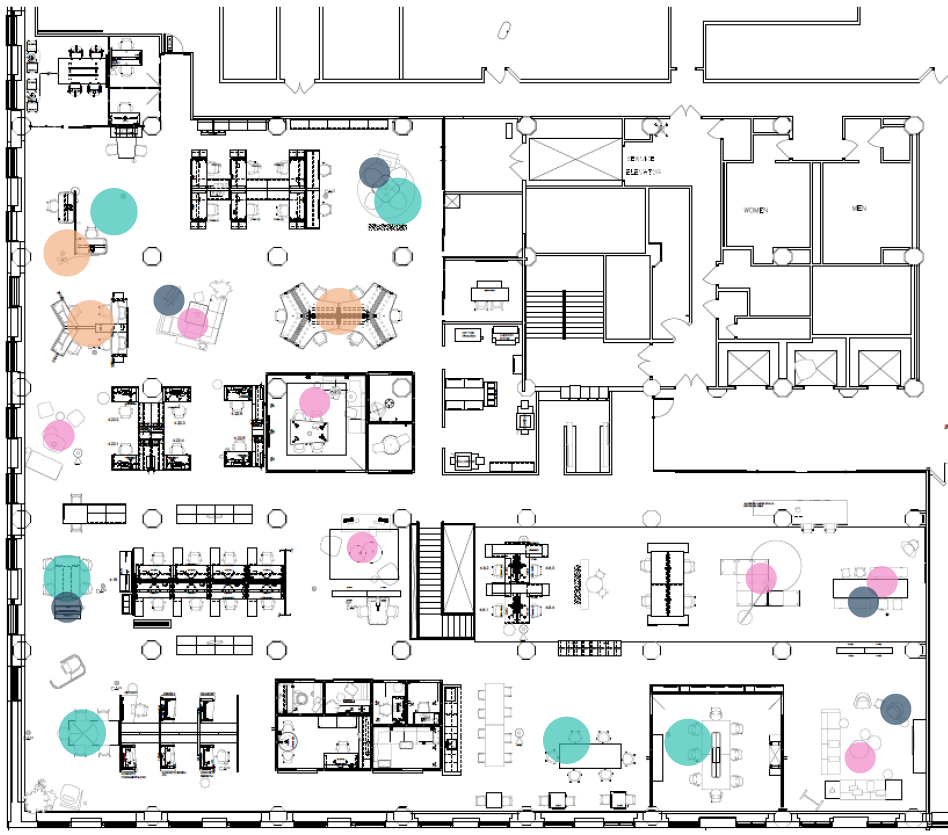 REDUCE DENSITY + ADD DIVISION

Changes to workstation placement and removal of select furniture items to open traffic paths and reduce opportunities for interaction.

Removing select seating options in enclosed conference rooms, team tables, and café settings for the near future to help people adhere to physical distancing recommendations.

Retrofit with mobile screens – both affixed to close workstation packs and movable throughout the space – helps to enhance privacy and space
division.

Traditional nomadic movement has been suspended. Our nomadic workers will choose a workspace for the day, and are encouraged to use a checkerboard pattern when possible (example shown).

MOBILE POWER + TECHNOLOGY

Retrofit with mobile power to increase usable square footage – allowing work to be done where power isn't readily available.

Ensuring that enclosed spaces offer a wide variety of choices in layout – from formal to casual with integrated technology – so that teams can
control the format of the space they are virtually collaborating from.

CHANGE GEOMETRY

Reconfigure some open benching applications to help people move from a side-by-side placement to a backwards-facing position.

Protocol tip!  Refrain from sitting face-to-face without a barrier unless the 6 foot rule can be applied.

Rotate Flex desks 90-degrees to face in different directions. The use of Flex in thoughtful, structured and agile settings will help to spread people apart while still working near each other.

ANCILLARY SPACES
Retrofit ancillary spaces by rearranging single seats and sectionals. The addition of rugs, plants, screens and overhead pendants help to make spaces still feel defined and intimate. Increasing biophilia in the Worklab will help to soften spaces, create organic boundaries in settings, and act as a natural air purifier.
When looking into returning to our Minneapolis Worklab, it was important that we tackled the items that we could change in the NOW – reducing density, changing geometry of work surfaces, and reconfiguring our ancillary spaces – while also planning for our future needs, specifically increasing our product mix of more flexible furniture and enhancing our technology solutions.
– Liz Olberding, Lead Designer
How we can help
For more information on how we and other local Minneapolis businesses are working to welcome employees back to the workplace, see the recent article that featured Atmosphere in the Star Tribune.
Contact one of our Minneapolis Evolving Workplace Specialists or download our Thought Starters Guide to learn about trends and ideas for adapting your space.