Procurement Management
Project Management
Sourcing Solutions
Furniture Programming
Sourcing/Vendor Matrix Breadth
Installation & Delivery
Relocation
Asset Management
Custom Solutions
Recycling
We love the work we do.
We are built to bring ease, simplicity, and transparency to hospitality projects- no matter the size or brand. It is the goal of our teams to make sure that your project is handled with an inventive and creative lens.
Through our detailed product knowledge, strong vendor relationships, and timely execution, we strive to deliver a remarkable experience for your hospitality project, each step of the way.
Visit hospitality.atmosphereci.com for more information.
We recently completed a project with Edition Residences, a 25,000 s/f luxury apartment building located near US Bank Stadium in Minneapolis that offers a chic and savvy urban lifestyle to its residents.
Working within The Excelsior Group's assertive timeframe, our hospitality team sourced and delivered furnishings from over 50 vendors to furnish the lobby, club rooms, outdoor spaces, conference rooms and office spaces of the new, trend-setting 195-apartment unit complex.
Edition Residences is now a newsworthy addition to the local community that is helping to revitalize the up-and-coming East Minneapolis neighborhood as a premiere destination spot.
Recently faced with an enormous renovation on their hands, the Radisson Hotel in La Crosse, WI was tasked to upgrade to the cohesive look of their popular chain standards while also adding in unique, local elements to make their guests feel at home. To achieve this, the architect group Cuningham Architects brought on Atmosphere Commercial Interiors for their experience, alternate product expertise, and buying power.
To begin, model rooms were quickly created to test, evaluate, and gain feedback on proposed product selections. From that, the team was able to provide alternate product and custom selections, such as locally sourced stone desktops, that kept the original design intent intact while saving a substantial amount of money. The team also commissioned artwork to be created with a local photographer to elevate the design of the hotel and to pay homage to nearby rich traditions.
The end resulted in 100+ successfully renovated guest rooms that stayed true to the Radisson brand while also showcasing the uniqueness of this beautiful Wisconsin city.
Swinomish Resort & Casino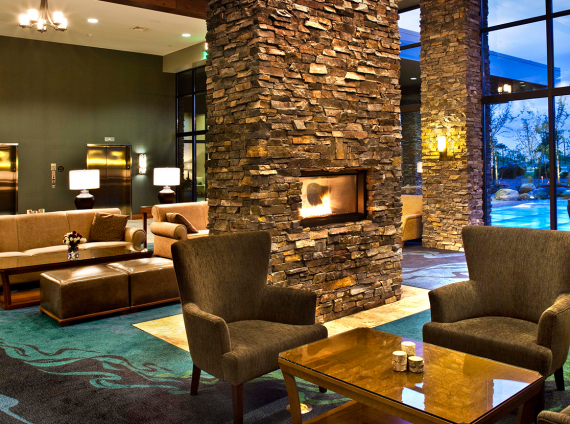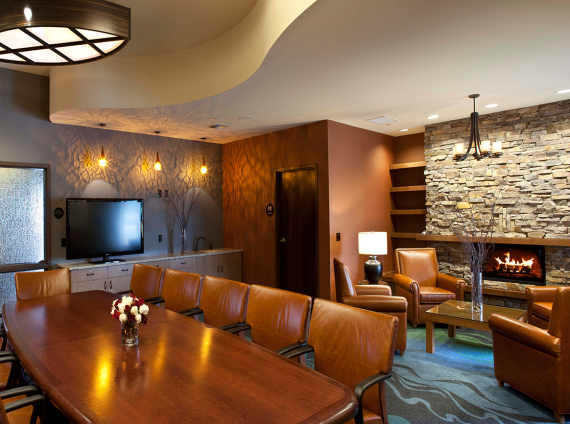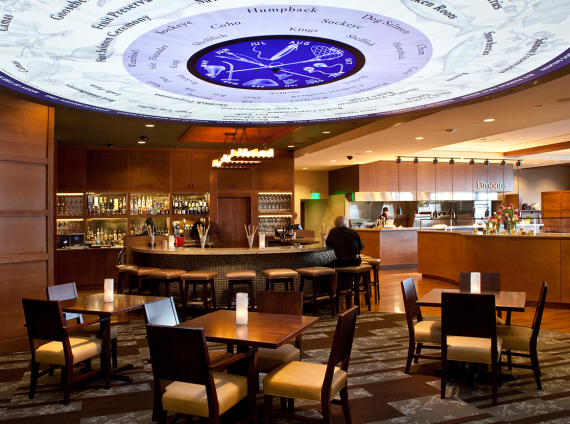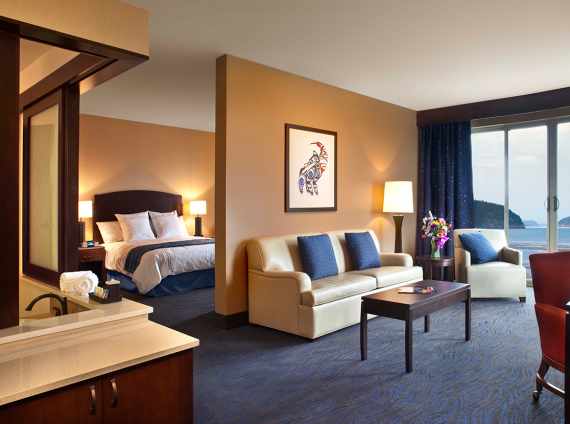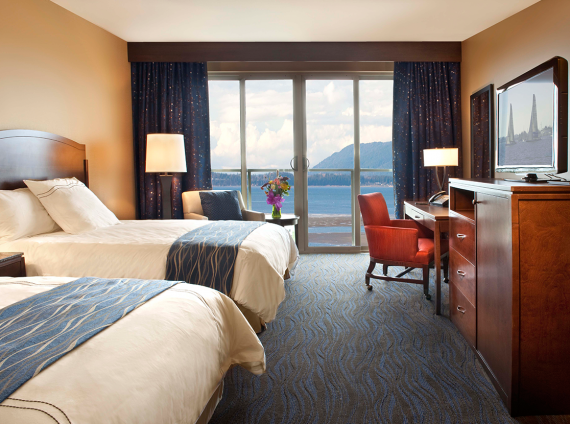 The Swinomish people inhabit tribal lands in the Skagit and Samish River valleys of Washington, and the contemporary design of their Casino and Lodge reflects the lush natural elements of these surroundings. Working on a schedule of 12 months from design through construction, Atmosphere Commercial Interiors was an integral part of the collaborative team of architect, design-build contractor and the tribal design committee that brought the project in on time and on budget.
With views of the Swinomish Channel and Padilla Bay, the hotel rooms are furnished to subtly capture the Swinomish culture. The entire project comprises 98 rooms, formal restaurant, hotel lounge, wine bar, sports bar and remodeled casino. Everything from artwork to soffits to light fixtures incorporates design features of the surrounding lands, from coastal seashore to inland forests.
Atmosphere Commercial Interiors provided a turnkey FF&E solution for this Holiday Inn Express Formula Blue location. Throughout the project, we dedicated our team to delivering transparency and simplicity to the procurement process.
Leveraging IHG's negotiated product prices, we offered access to the full SRD catalog by brand, assured adherence to brand standards and a single team to provide procurement support.
Harrah's Casino and Resort