The past three years feel like a string of unprecedented events that have been both detrimental and beneficial. Living through a period of uncertainty, even if the outcome is positive, can test our collective mental and emotional health.
Our professions can be a source of stability, and employers want to create conditions where employees feel safe and productive.
As employees return to the office, employers have started to pay close attention to how the physical space – and how it's used – can support their employees' physical, cognitive, and emotional wellbeing.
Enhance creativity
It's no secret that our body fuels our brains, and the mind-body connection is as strong as ever. According to research at Stanford University, walking increases creative output by an average of 60% while sitting can slow brain activity. With that in mind, providing standing or walking desks as an option and encouraging team members to take a walk instead of meeting in a conference room can help employees tap their creative muscles. This can go a long way; research has shown that participants who spent time on creative activities experienced a positive effect from those activities.
Just as movement spurs creativity, so too does solitude. While much emphasis has been placed on designing the post-Covid office space with lots of collaboration rooms, employees also need warm and inviting spaces where they can be alone with their own thoughts. When we feel free to let our thoughts wander, we often arrive at fresh and new approaches to a problem, which is an invigorating and empowering feeling.
Promote a calm & serene environment
According to research, lighting plays an important role in our moods and alertness so it's critical to pay attention to the type of artificial lighting you bring into the office. Just as important, however, is access to natural light as it helps regulate the body's circadian rhythms. This leads to healthy sleep patterns, which is another important factor in positive mental health. Of course, not everyone can have a workspace with exterior windows so, when possible, ensure common areas like the kitchen have windows so that employees can get easy access to natural light.
And, just as humans like natural sunlight, we also like natural greenery and clean environments. Live plants trump artificial ones, and neat and tidy common areas go a long way. While some of us do thrive amongst chaos, most of us feel disorganized in our minds when we are immersed in a disorganized or messy environment.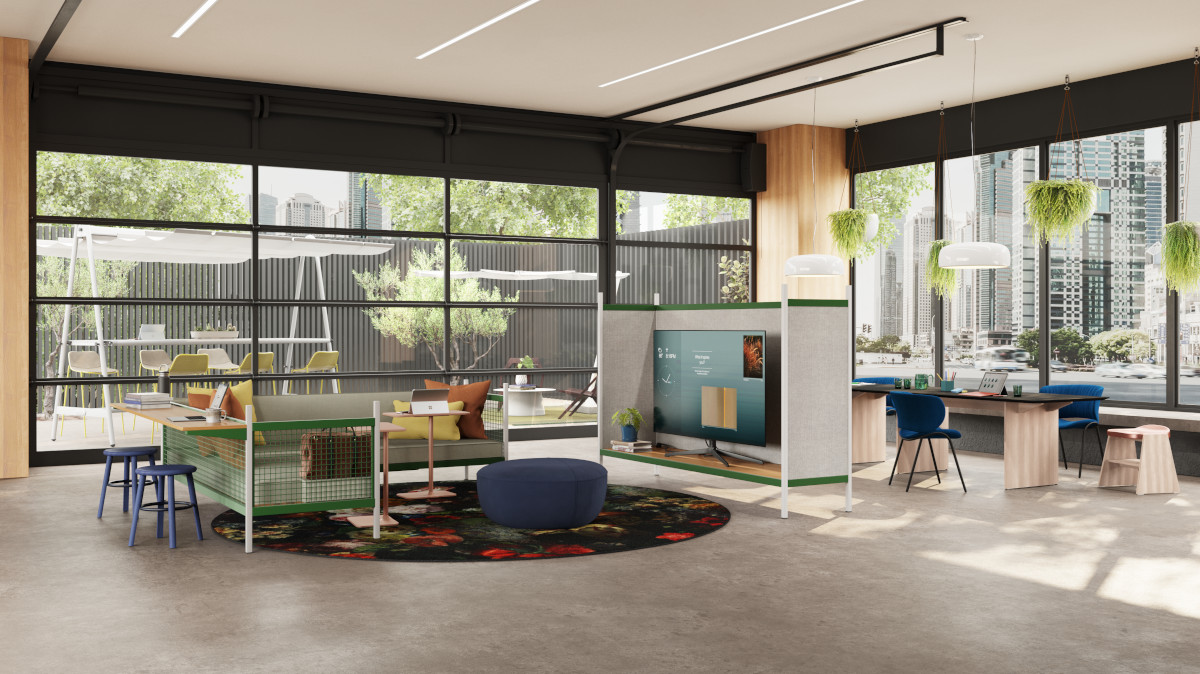 Be social but don't force it
One of the benefits of going into the office is the ability to make connections with other people. Providing spaces where employees can freely gather for formal or informal conversations will help ensure they have a sense of belonging. It will also help those employees who may feel isolated. Research has shown that in-person interactions are associated with lower rates of major depression whereas communicating via email and Zoom does not have the same effect.
In addition, employers can encourage impromptu group or department lunches and quarterly get-togethers. And while these are a good way to promote interaction, it's important to understand that employees may want to skip a gathering here and there. We all have our own comfort level of reemerging from two years of isolation due to the pandemic, and some of us may need to dip our toe in the water for a bit before diving in.
Check in with employees
Your employees are at work for a reason and want to feel part of a purpose bigger than themselves. By reminding them of your company's mission, vision and goals through subtle visual cues, they see their work matters. And as more employees return to the office, even for a day or two a week, check in with them to see how they are doing. Take the pulse of what's working and what's not and understand why.
Interested in discussing how to configure your office space to support your employees' mental health? Contact us today!