Brad Kunz and Julie Murphy Agnew were able to grab this great photo of the UW Student Athletic Performance Center on a site visit last week.
Target Commercial Interiors supplied furniture for men's and women's soccer lounges, men's and women's track lounges, the football lounge and a rehab suite, as well as a student-athlete computer lab, large conference room, and multiple private offices.
Throughout the visits by the Target Commercial Interiors' team, they've had a few well-known Badgers sightings…including Melvin Gordon and Jared Abbrederis.
Julie even stood in Montee Ball's locker for a photo op about two weeks before Rose Bowl 2013.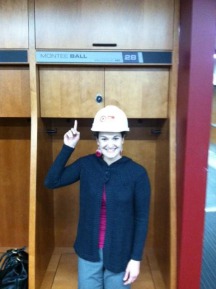 For more info on the project, check out the Badgers website and a recent article in the Wisconsin State Journal.​