Day 1: Monday, October 27
We land in Las Vegas, NV, early Monday morning, or, late Sunday night to locals … and there are Lights! Gambling machines! Huge banners for shows! Music! Noise!
And we haven't even left the airport yet.
My co-worker and I arrive at the Sands Expo and Convention Center at 8:30 a.m., to setup for the 2014 IHG Americas Leadership and Investors Conference.
Exhibitor check-in was fast and slick, the staff was very helpful, and we felt very official.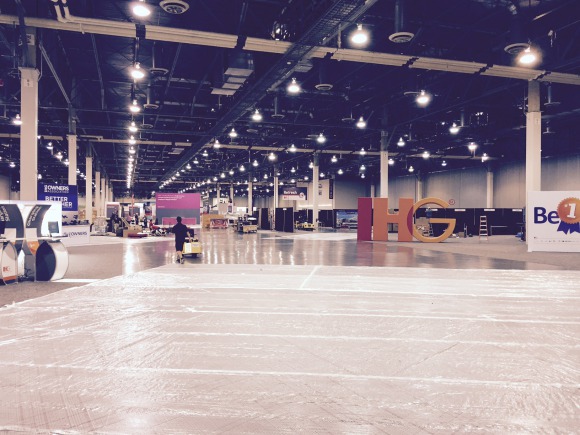 Once inside the expo space, which resembled a Boeing factory where Dreamliners are assembled, tradeshow setup looked like it would take days to finish.
So, with 24 hours left to go before the convention kick-off, the transformation of 2.25 million square feet was not for the faint of heart.
A focused army of employees and project managers, along with suites full of convention service staff, drove equipment, rolled out carpet, snapped box bands, and assembled booth kits so complicated they would intimidate the most hardened Ikea Bookshelf Master.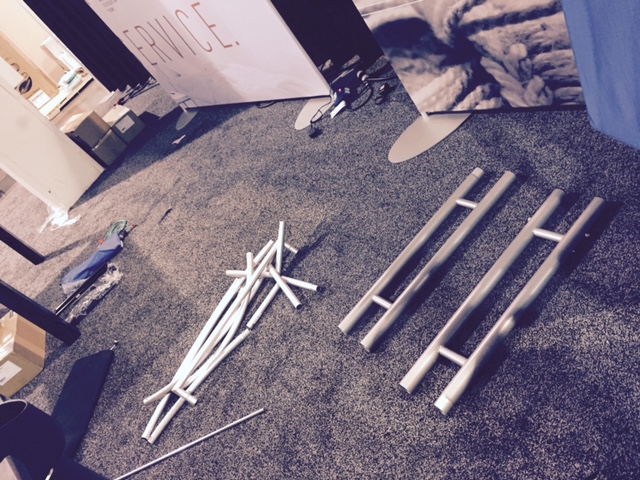 The two of us unpacked the booth kit and started the task of setup steps 1 – 37, to be repeated thrice, then put on our electrical engineering hats to affix lighting and negotiate a power source. We were good and sweaty after that, since the temperature in the football field-sized arena felt about 80 degrees.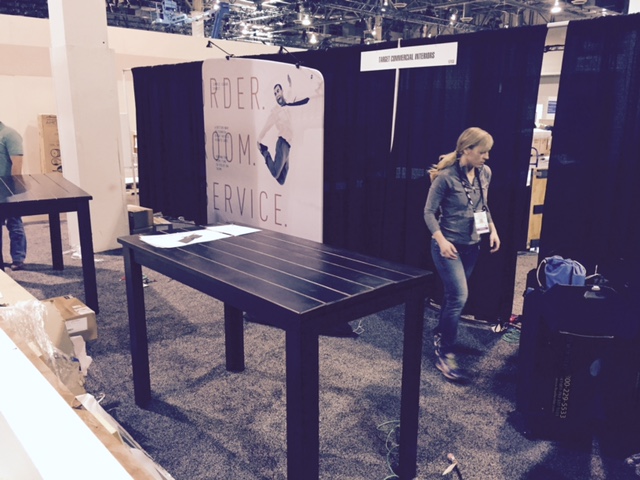 After a few more arrangements for booth pickup and shipping, we broke for a few hours until the rest of our TCI crew arrived.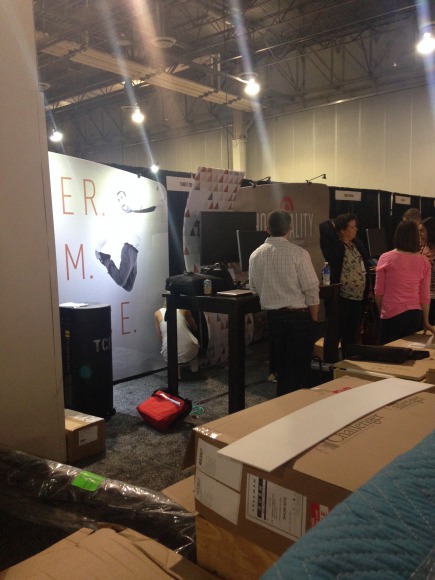 We spent the afternoon unpacking handouts, arranging succulents, and finalizing training.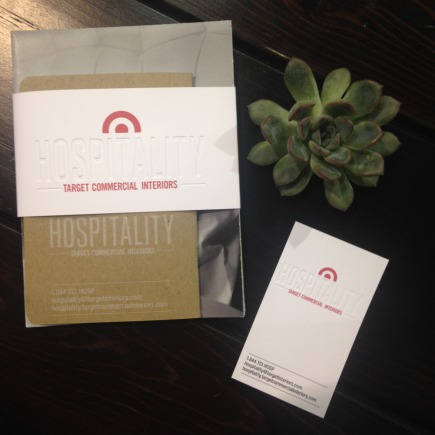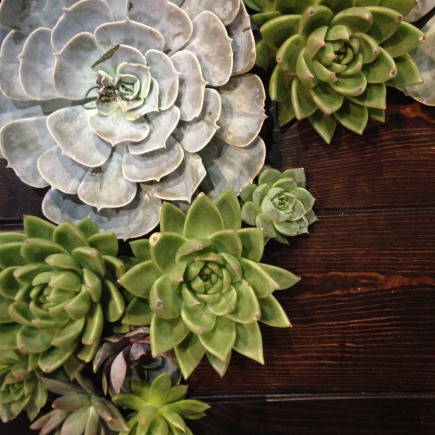 Monday evening, IHG and Coca Cola hosted a party on the Venetian Pool deck–which was really The Largest and Most Glamorous Patio in the World, plus a few giant pools. Lookin' good ladies!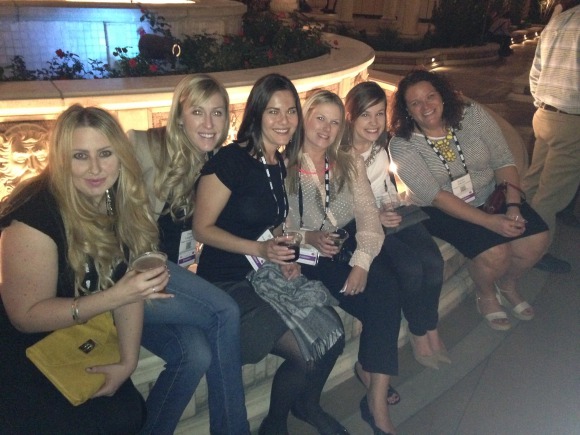 ---
Day 2: Tuesday, October 28
We filled our woven Nate Berkus baskets with handouts …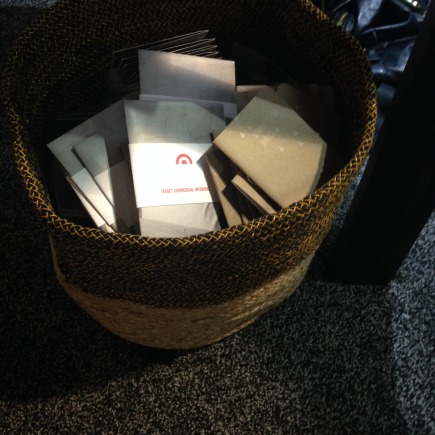 … put on our snappy red gingham shirts …
… and split up between two locations; our booth, and the Holiday Inn Express – Formula Blue booth.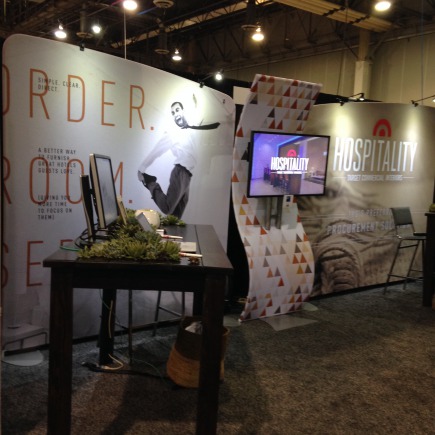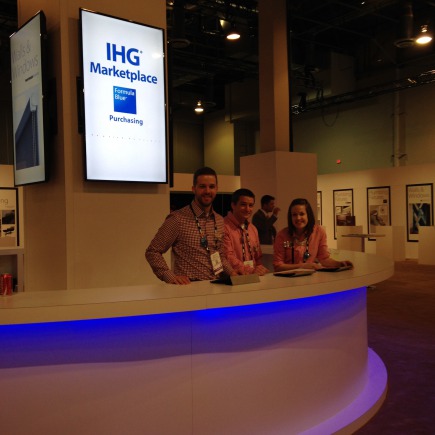 We were happily answering questions about our relationship to Target, and our Hospitality Services.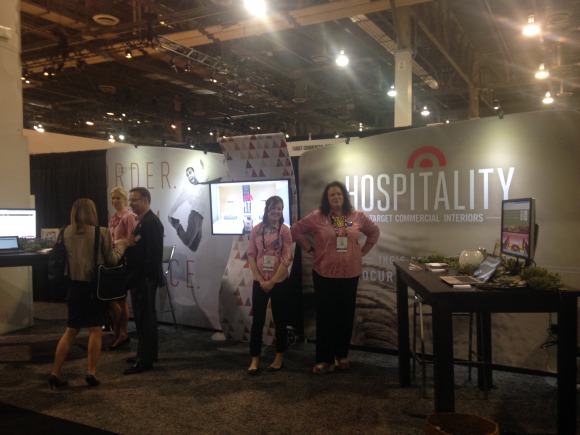 A few celebrity sightings during breakouts, Ty Pennington and Robin Meade!!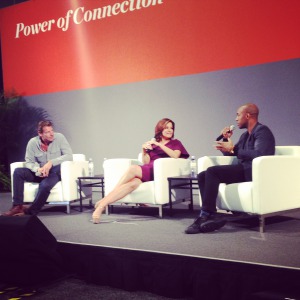 ---
Day 3: Wednesday, October 29
We take down the booth at noon, after a 3-hour morning session.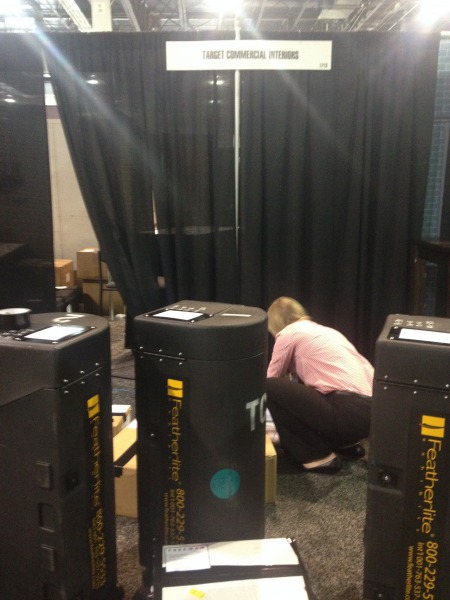 All around us, tear-down is happening at record pace. It's amazing what can happen in an hour.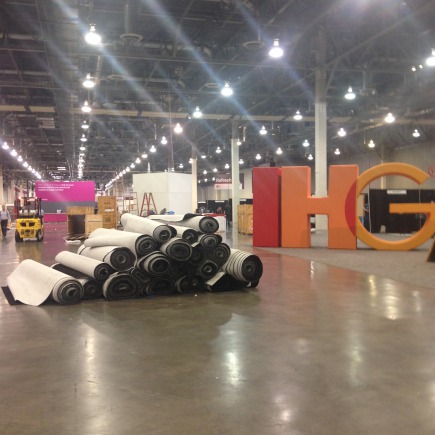 That night, we join the exhibitors, IHG Corporate, and Hotel Owners and Operators for a farewell dinner in the beautiful Palazzo ballroom. We were thrilled to meet so many Hotel Owners and Operators in Las Vegas, they asked great questions and seemed ready to get to work.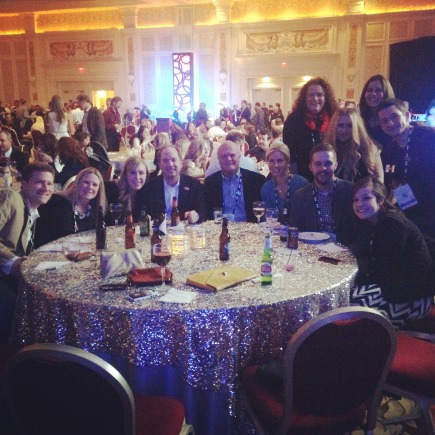 As a farewell treat, IHG invited some amazing performers for a spectacular send off.  More celebrity sightings!
The Cello Guys! Emil and Dariel totally rocked the house, they were amazing!!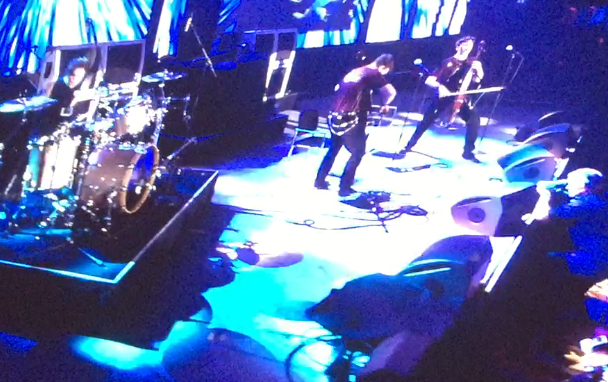 A country crooner ….

And Kellie Pickler!  Oops, no fun photos of her.
---
Day 4: Thursday, 6 a.m., October 30
We leave the Venetian, toting our luggage and [eye] baggage, and join the steady stream of hospitality-types hopping in cabs and shuttling off to the airport.
Until next year, ciao Vegas!  It was a truly amazing experience.
---
To learn more about our Hospitality services, visit http://hospitality.targetcommercialinteriors.com/