This week, the team at Atmosphere Commercial Interiors was busy discovering the latest and greatest commercial designs at one of the industry's largest trade shows. NeoCon was no small feat, but the colors were daring, people were talking, and we were taking notes.
Following suit of the Pantone colors of the year, Rose Quartz and Serenity, light pastel accents in hues from pink to periwinkle to purples were spotted everywhere! One of the sweetest trends of 2016, we couldn't help but notice the delicious color schemes on everything from privacy panels to pillows. The handfuls of cotton candy we received from Allermuir even brilliantly matched the color scheme. We look forward to seeing this delicate trend around, as these soft hues work no matter the occasion.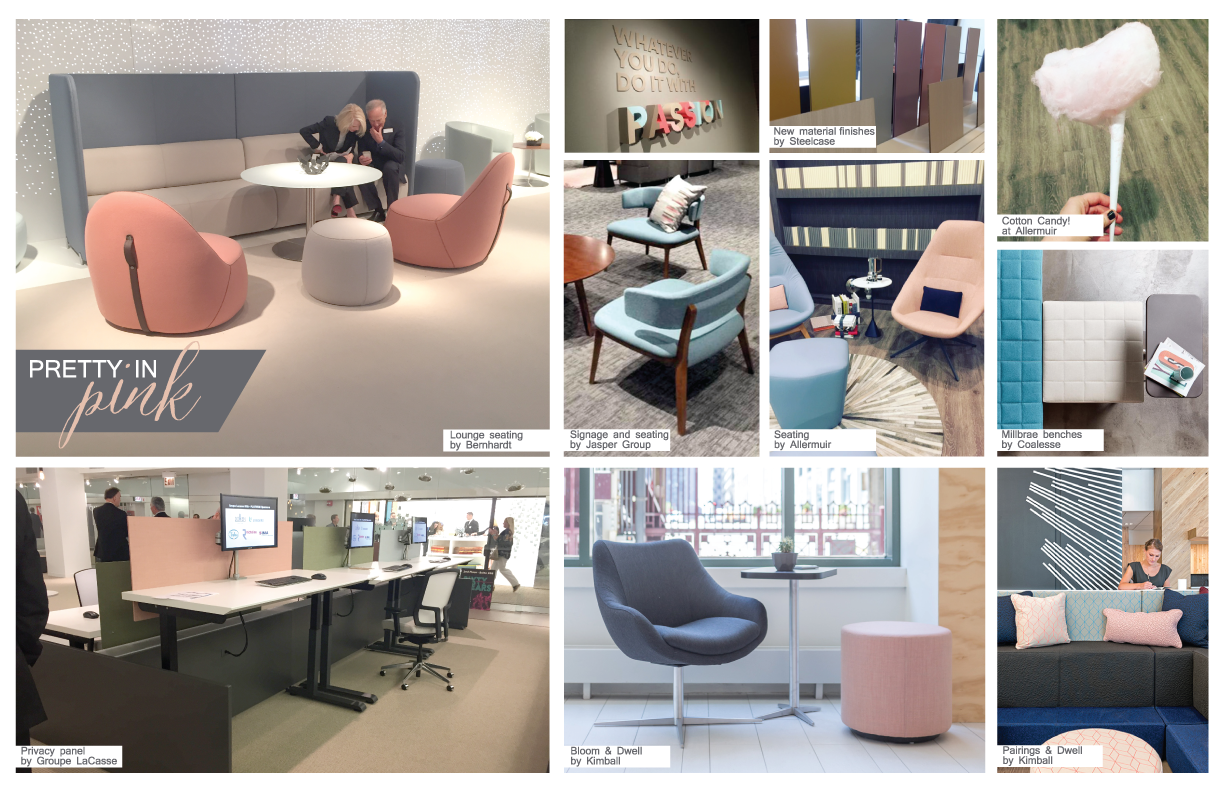 Mixing materials was another daring move that paid off. This year, wood shared the spotlight with fabrics, metals, and even marble. A special shout-out goes to the Bassline tables by Steelcase, which took home the much-deserved Innovation Award for the stunning marble and wood surface top. The rebirth of mix-and match is upon us, and we love it.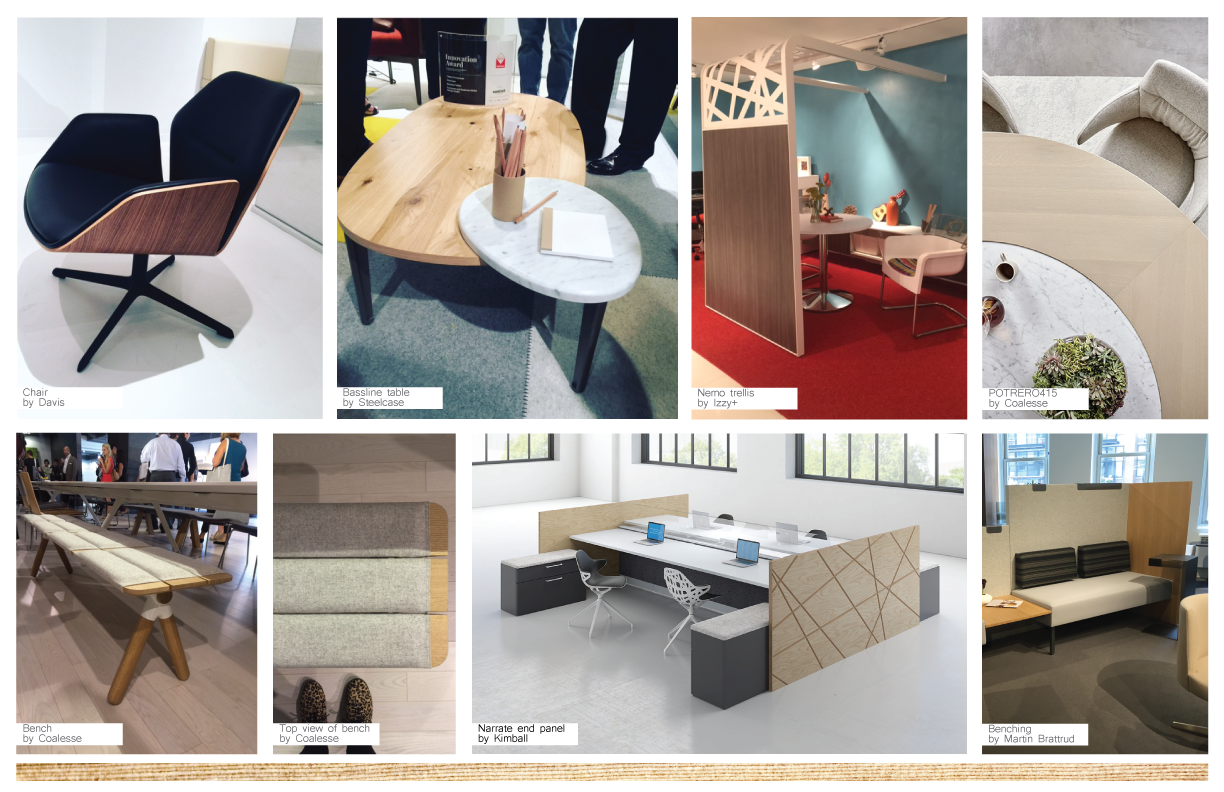 In a strong visible nod to the growing trend of the residential aesthetic carrying over into the workspace, the Steelcase family of applications was full of bright colors, surely emphasizing the workplace is no longer all about basic hues.
~ Jamie Lowe, Executive Vice President, Minnesota
Lest one get bored while sitting, BuzziBalance from BuzziSpace offers an ergonomic restoration of mind and body. The accessory won Gold in NeoCon's accessory category for its innovative ability to bring people together, as the non-traditional environment stimulates conversation and delight. Sign us up!
For a complete list of 2016 Best Of NeoCon winners, visit ContractDesign.com.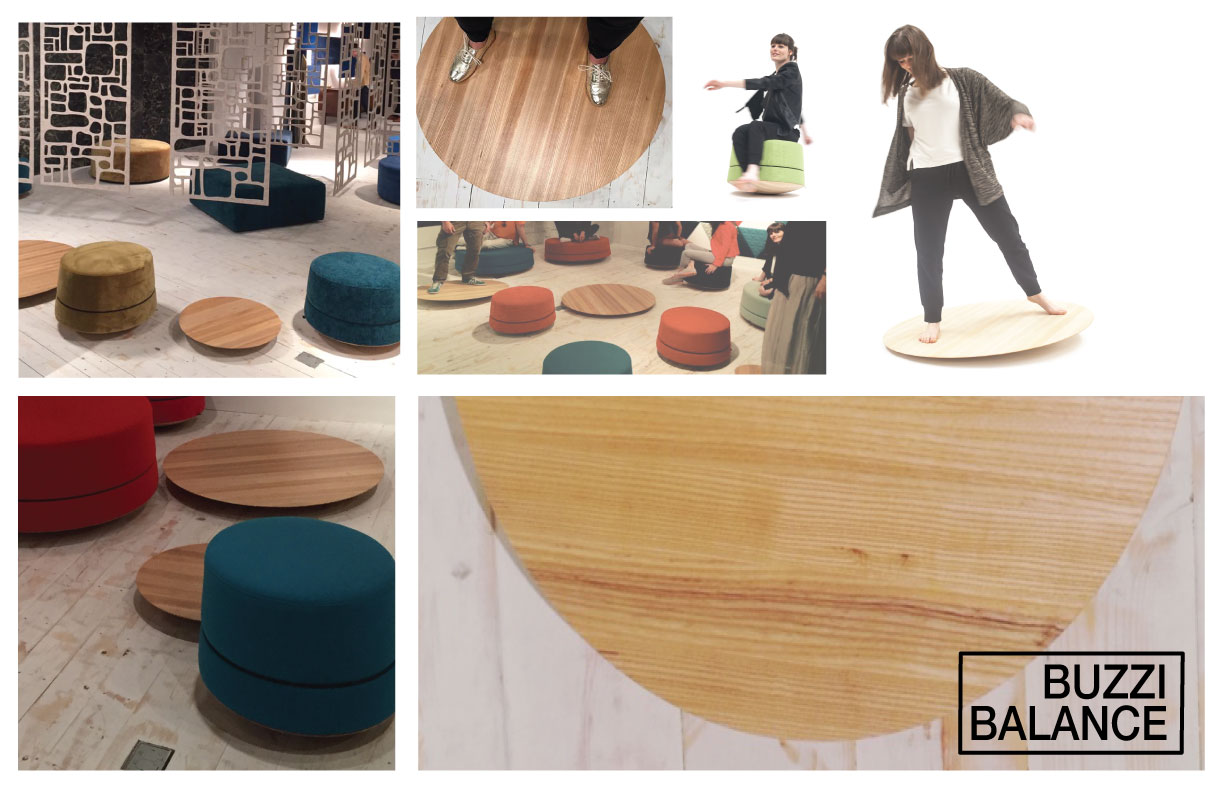 Additional thoughts from our attending team members:
The 7th floor was the most fun, that's where all the cool lighting, signage and architectural accessories were.
~ Julie, Marketing Specialist, Arizona
It was great to see the contract division embracing the softer, more residential feel that is so prominent in the hospitality division.
~ Erin, Project Manager, Minnesota
I noticed a lot of benching and height adjustable options. Most showrooms had lounge areas incorporated into them, and used a lot of wood to appeal to the fans of West Elm. Steelcase did a great job showing a variety of settings! I also thought that they did an excellent job keeping both the end-users and designers in mind this year to allow for individuality and self-expression in space.  Another trend was the use of a felt-type material, and the fresh and creative mixing of finishes.
~ Amy, Design Lead, Wisconsin
What impacted me was the variety of products to support collaboration, the mix of fabrics and vinyls, and myriad of lounge pieces. Steelcase showed a wide variety of work settings, and Steelcase Healthcare placed an emphasis on support of  the doctor / clients / caregiver relationship. The story that hit home with my client was, 'space matters in attracting the next generation and retaining good workers.'
~ Lana, Workplace Consultant, Illinois
There is an obvious shift towards the human aspect of place through mobility, wellness and choice.  Workplace meets coffee shop, health meets hospitality and education meets technology.  This brings the power back to the people and makes for a much more human-centric experience.
~ Sara, Interior Designer, Minnesota
1) Resimercial (residential + commercial):  The merging of home and office. Think West Elm.  2) Felt was omnipresent.  3) Technology is still leading us, but analog tools are still relevant and important.  4) Seating is still a focus despite trends in adjustable and standing-height products.
~ Deb, Senior Account Manager Architecture and Design, Wisconsin
My NeoCon observations summed up:

Customization and personal expression, whether it be adding more colors, new graphics, or customizable options.
Emphasis on millennials by having casual work style and making a mark in your workplace, again customization and individuality.
Have fun at work, ie buzzi.space buzzi jungle.
Colors are more muted, deep and rich compared to the bright that we saw before. White and black might be the new neutral.
Geometrics are still in but more organic and 3D when possible.
Materials: Woods are still present but being phased out with stone if possible.
Fabric: Felt, solids and textures, traditional patterns.
Technology is still a must, plus improvements like apps and presence technology.
Traditional designs reimagined to look different and more modern.

On Steelcase specifically:

New app for checking availability and usage.
B-Free collection, Turnstone-esque.
Coalesse Bee line table – completely customizable.
New sofa styles.

~ Zach, Associate Interior Designer, Wisconsin