As a telecommuter, I spend 100% of my time working in a home office. Or do I?
Or should I?
I have a great setup. A fast laptop, web cam, headset, cable internet, and a good chair. Of course I have a good chair. I work for an office furniture company.
But as I read articles on telecommuting and knowledge workers, two categories I'd like to think I fit in to, I am gaining more insight on where else work gets done. So, I wonder if I should consider trying other spaces as well.
I read business books and start scratching up notes for an article. I go running and think of three new tasks and get inspired to start a new project. I check in on project status on apps on my phone. Not quantifiable, but I am increasingly able to un-tether from my 'home office', and it's about time I embrace that.
Here's why.
Change and variety, within your range of desired environmental factors, can be refreshing and stimulating—not overwhelming—if you do it right.  Your ability to manage 'where' and 'how' you work can significantly boost productivity.
I recently read a great perspective on home office programs written by Pam Ross, Scrap Your Work From Home Policy. She makes the case for home office work to be about how work gets done when you're not required to sit at a desk for eight hours. Instead of tethering home office workers to their Home Offices, allow them to get their work done in an optimal way. Their own optimal way. If that means they spend 20 hours per week in a coffee shop because they feel stimulated by the ambient noise level and activity, then that should be supported.
The caveat is that this type of workstyle change may require the employee and their  manager to review how the employee is managed, and how productivity is measured. Management does not, or should not, equate to time-in-chair-tallies, but productivity and performance. This new management style means determining how to measure the employee's value, which is a step that will take a lot of time and thought, because it may be a very individual thing. Ross points out that, "In an autonomous working world, clear purpose, mission, and goals and objectives are important. We need to get clear on the results we are responsible for, and measure those – not the time spent attempting to achieve them." She draws on Results-Only Work Environment (ROWE), a company that specializes in delivering a contemporary work culture.
So, how can we find environments help us feel engaged, inspired, motivated, and productive?
Spend time reflecting on what variables create disruptions and suck the wind out of your productivity sails, versus the type of environment that helps you both focus and/or collaborate. Here are a few ideas I pulled together: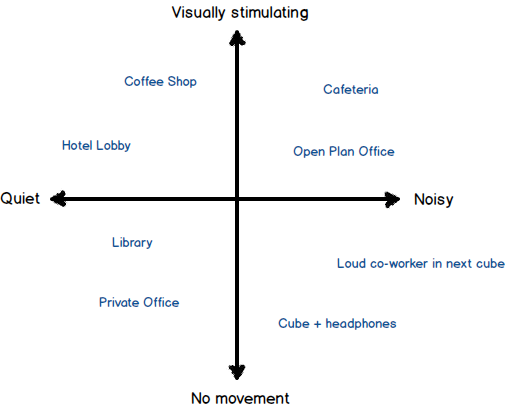 And, consider the type of work you do, and where and when it seems effortless. One of my friends heads to a local coffee shop once a week for stimulation, to help her with creative work. Another friend spends two days a week in a very quiet home office to write bids. My Millennial Generation cousin likes to wear headphones in the middle of a busy open plan office. As in, a private bubble in the eye of the storm. It's not for everyone.
Even co-workers with private offices seek alternate work environments because they realize that working in isolation, at times, can be dreadfully boring.
For those of you that work at home, a home office can seem a lot like a private office, minus the dog barking.
If you think you need to mix up your environment, try an exercise to gain insight into your employees' ideal office space, or your own [home] office space. Ask your office-dwellers to fill out a few post-it notes with their favorite places to get work done; library, office, break room, dining room table, coffee house, etc. Then place all the notes on a grid, such as the one included above, and see where the trends are. If you work in an office full of cubicles, and all your employees prefer noisy, open spaces, then you have an opportunity to enhance their environment to better suit their workstyle. Conversely, if you work in a wide open space, and half your staff prefer to work at home or at a library, you could consider allocating a percentage of real estate to private, quiet spaces. Or, consider a flexible work-elsewhere program. It's about choice, not all or nothing.
And now for the promotional plug – we [Target Commercial Interiors] often discuss flexible work environments with clients for this exact reason. Change can be exciting and stimulating, even if it means office furniture can be easily reconfigured by its users. Change your workspace, change your perspective. Magic.
If you  work for a company that is open to a cultural (and managerial) shift in practices, and you feel that non-desk time could help you add more value, try experimenting with different environments, if your technology allows. Seek out new ways to manage your workload and monitor your level of engagement. And learn to talk about your value and performance, in the context of 'how' you get work done, not 'where'.
Need a little more proof? Check out an Inc.com CEO Survey on where they come up with their best ideas.
And since I can't redecorate my home office every six months, I'll learn to walk away from my desk too if I need a creative shot in the arm. (image via Shutterstock)