Spaces often provide a first impression of a company's culture, brand and people. As one of the largest Steelcase dealers in the country and the only one owned by a major retail company, expectations were high in 2012 when Target Commercial Interiors turned its focus inward and began to plan the first full renovation since taking over multiple floors in the historic Young Quinlan building in downtown Minneapolis.
The mission was simple: Create a space that engaged and inspired our team members, our customers, and the broader workplace community. And make it a place that people would be excited to work at, visit and talk about for years to come.
At Target Commercial Interiors, our focus has always been on relationships; with each other, with our clients and vendor partners, and with our community. The best way to achieve our ambitious goal of transforming our space into something everyone could be proud of was to ask our people and really listen to what they had to say.
INSIGHTS AND INSPIRATION
We began by working with our partners at Steelcase to conduct an ARC Engagement with our team members. This process fostered an open communication about what they wanted and needed to be successful. A series of group discussions, intensive interviews and surveys quickly told us that what our teams needed was flexibility, collaborative spaces and an environment focused on well-being. In addition, our own internal discussions centered on team members having the technological tools to give them mobility and more autonomy to decide when and where they work best.
Finally, we asked our clients what was working for them, and time and again, their responses echoed what we were already hearing from our own teams: Flexibility, collaborative spaces and the freedom to work where work happens.
Utilizing those results, our design team, in close partnership with Julie Snow Architects, drafted a plan that would accommodate growth, allow for many new collaboration spaces, and give people a bright, well laid out floor plan that would support how they worked.
A CHANGE IN PLANS
The fourth floor, home to the majority of team members, originally included standard 8×8 workstations and a modest amount of collaborative spaces. But an influential trip to NeoCon in June of 2013 led to a strategic shift in planning.
The theme at NeoCon was a reversal of traditional individual versus common space allocation. The new emphasis on shared spaces necessitated a smaller workstation footprint, and more dedicated places to meet or socialize.
Our internal design team quickly adapted our headquarters plan to allow for even more growth, more common spaces, and a reduced workstation footprint.  As we worked with our employees on options, there were surprisingly few objections to the new, smaller footprints as they quickly saw the advantages of having more open space.
The final plan increased shared space 500%, from the original seven areas to thirty-five; including conference rooms, enclaves, two work cafes and many other open, inviting areas in which to gather.
CAMP TCI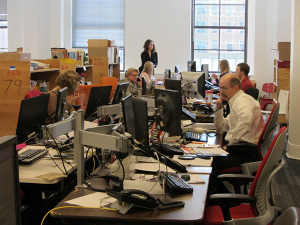 In spring of 2013, the excitement was palpable as we began preparing for the move to temporary spaces and construction on our third floor commenced.  Space constraints meant that our team members had to quickly adapt to working in close quarters, but we approached it with a positive, summer camp-themed attitude that led to an unexpected but exciting side effect: People now found themselves surrounded by other people with great ideas, fun stories and a wealth of knowledge, and they embraced it.  Idea generation and collaborative discussions became the norm almost immediately.
Two key factors in lessening the impact to our team members were the ability to leverage Target Corporation's 'Work.Different' strategy, which focuses on letting team members work where and when they can be most productive. This included  providing team members with lightweight, touch-screen laptops that could easily support remote or alternative workspace options during construction.
By the end of November, the construction of our new space was complete and team members were anxious to move into their new spaces.
LESS IS MORE
While the workstations were downsized, each team member now had powered, height-adjustable work surfaces, new ergonomic chairs, extra storage space and laptops with upgraded wireless throughout the space.
The response was overwhelmingly positive.
What our team members gave up in personal space, they more than gained back in better technology and furniture, large amounts of natural light due to lower panel heights and soffits being cut back as well as a variety of meeting and gathering spaces.
GATHERING SPACES
The design of our unique gathering spaces have really set us apart.
Both floors now feature bright, open floor plans that accommodate Work Cafes, complete with kitchenettes.
Furniture ranges from upscale cafeteria-style tables and chairs to soft, inviting couches and lounge chairs arranged to perfectly foster conversation and collaboration. Teams, clients and partners can all benefit from these diverse and welcoming spaces.
FRONT PORCHES
On our fourth floor, the end of each row of workstations has what we call our 'Front Porches.' These fun, informal spaces are designed for people to gather for work, fun or just a quick chat.
SPECIALTY SPACES
By reducing the number of private office vignettes from more than 20 to just 7, we were able to include a beautiful, state of the art healthcare showroom on our third floor, featuring products designed by our primary healthcare partner Nurture by Steelcase.
TIME TO SHINE
Abundant natural light, colorful graphics, walkstations and a stunning focal staircase are just some of the many added extras in our new space.
The hard work of our teams, along with the partnership of key vendors, architects, designers and clients has allowed TCI to shine brighter than ever before.
We are immensely proud of our new space and would love the opportunity to show it to you!